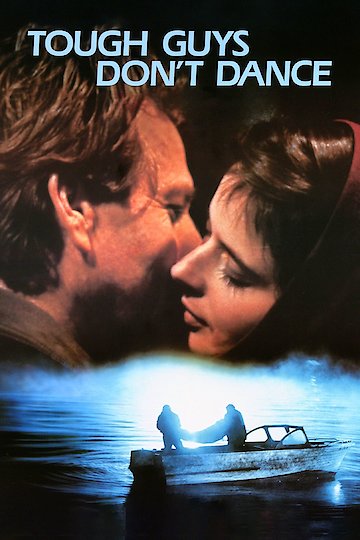 Watch Tough Guys Don't Dance
"A love story shadowed by murder. A comedy laced with horror."
R
1987
1 hr 50 min
Tough Guys Don't Dance is a 1987 neo-noir mystery film directed by Norman Mailer and based on his novel of the same title. The movie is set in the small town of Provincetown on Cape Cod, and it follows the story of Tim Madden (Ryan O'Neal), a washed-up writer with a severe case of writer's block, a drinking problem, and no memory of the night before. He wakes up with a bloody shirt, a large sum of money, and a cryptic note that reads, "You'll never find me." His estranged wife Patty (Isabella Rossellini) returns to town, and Tim becomes embroiled in a web of deceit, betrayal, and murder.
The film opens with Tim sitting on a beach, drinking heavily and smoking. He wanders into a bar and picks up a woman named Madeleine (Debra Stipe) whom he believes is a prostitute. They consume more alcohol and indulge in some cocaine, and Tim wakes up the next morning with no memory of what happened. Madeleine is gone, and he discovers that he's been cut and is bleeding profusely. He tries to retrace his steps and figure out what happened, but he's interrupted by a knock at the door – it's Patty, his ex-wife, who he hasn't seen in years.
Patty is bitter and resentful towards Tim, and she demands to know why he never visited her in California. She reveals that she's in town to sell their old house, but Tim is more interested in figuring out what happened the night before. He finds a note in his pocket that says, "You'll never find me," but he has no idea who wrote it or what it means. As he tries to piece together his memories, he discovers that Madeleine was not a prostitute but a woman he knew from high school. He also finds out that the large sum of money in his pocket belongs to a notorious drug kingpin named Horatio the Hair (Wings Hauser), and that several people in town are after it.
As Tim delves deeper into the mystery, he discovers that his past is catching up with him. He was involved in a hit-and-run accident years ago that killed a young girl, and her mother (Frances Fisher) is seeking revenge. He's also being blackmailed by a local real estate mogul (John Bedford Lloyd) who has evidence of him having an affair with his maid.
Tough Guys Don't Dance is a complex and multi-layered film that blends elements of noir, comedy, and melodrama. It's not an easy film to follow, but it rewards the viewer who sticks with it. The characters are all flawed and damaged, and they're played with relish by the excellent cast. Ryan O'Neal gives a career-best performance as Tim, a man who's drowning in his own self-pity and guilt. Isabella Rossellini is outstanding as Patty, a woman who's been hurt by Tim's neglect but still loves him. Debra Stipe is a standout as Madeleine, a woman who's not quite what she seems.
Mailer's direction is stylish and assured, with plenty of long, tracking shots and moody lighting. The film has a distinctive look that's both beautiful and ugly, capturing the seedy underbelly of small-town life. The score by Angelo Badalamenti is haunting and atmospheric, adding to the film's dreamlike quality.
Overall, Tough Guys Don't Dance is a challenging but rewarding film that rewards multiple viewings. It's not for everyone, but for those who appreciate a good mystery and a complex, morally ambiguous story, it's well worth seeking out.
Tough Guys Don't Dance is a 1987 drama with a runtime of 1 hour and 50 minutes. It has received mostly poor reviews from critics and viewers, who have given it an IMDb score of 4.9.