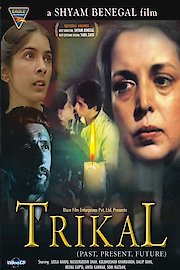 Watch Trikal
1985
2 hr 17 min
Trikal is a historical drama film released in the year 1985, directed by Shyam Benegal. The movie stars Leela Naidu, Neena Gupta, Anita Kanwar in the lead roles. The film marks the collaboration of Shyam Benegal with the legendary filmmaker Satyajit Ray, who has contributed to the film as a music composer. The story of Trikal is set in the Portuguese-ruled state of Goa in the year 1961. As the Portuguese are preparing to leave Goa after 450 years of colonial rule, the movie introduces the Estibeiro family, who are aristocrats and have been living in Goa for generations. The head of the family, Castelino Estibeiro, works as a judge in the Portuguese-run judiciary system, and his family comprises his wife, Dona Maria Estibeiro, their daughter, Nene, and her husband, Erasmo.
The Estibeiro family is shown to be a wealthy and respected family in Goa, but as the movie progresses, the cracks in their seemingly picture-perfect lifestyle start to appear. Castelino, who is also known as The Judge, is shown to be an exceptionally strict father with a tyrannical nature. Nene, Castelino's daughter, is shown to be unhappy in her marriage and resorts to alcoholism and infidelity to escape from her mundane life. Erasmo, Nene's husband, feels neglected and trapped in his marriage and starts to have an extramarital affair.
As the movie progresses, the focus shifts to the cultural and social clashes between the Goans and the Portuguese. The women of the Estibeiro family are shown to be from a Hindu background and follow their traditions, while the men of the family have converted to Christianity following the arrival of the Portuguese. This is indicative of the cultural changes that have taken place in the state of Goa over the years. There is also a subplot featuring a budding romance between a young Goan boy, Savio and a Portuguese girl, Becky, which further highlights the cultural differences.
The background score and music of the film, composed by Satyajit Ray, adds to the mood and emotions of the movie. The cinematography of the movie is also noteworthy, with picturesque visuals of Goa, highlighting the beauty of the state.
The film explores themes of family, traditions, cultural identity, and societal values through the narrative of the Estibeiro family. The historical context of the movie adds another layer to the story, highlighting the impact of colonialism on culture and society. The movie successfully manages to showcase the different facets of Goan culture and geography in a way that enables the audience to empathize with the characters and the story.
In conclusion, Trikal is an excellent example of Shyam Benegal's directorial prowess and Satyajit Ray's musical brilliance. The intricate plot, coupled with excellent acting performances by the cast, makes the movie an interesting watch. The film is a perfect blend of cultural, social, and historical references and should be watched by anyone interested in understanding the complexities of Indian culture and colonialism.