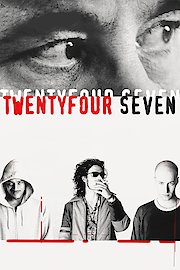 Watch Twenty Four Seven
R
1997
1 hr 36 min
Twenty Four Seven is a British drama film, directed by Shane Meadows and starring Bob Hoskins, Danny Nussbaum, and Toby. The movie was released in 1997 and tells the story of a group of working-class men in a small English town who, at the urging of a local boxing coach, create a boxing club to help alleviate their boredom and frustration.
The film opens with the main character, Darcy (Bob Hoskins), a middle-aged man who has recently lost his job and is struggling to find meaning in his life. Darcy is an idealist who believes that with enough hard work and determination, anything is possible. He is also deeply committed to his community and wants to help the young men in his town who are struggling with unemployment and other social issues.
Darcy becomes intrigued by the idea of starting a boxing club after he sees a group of young men fighting in the park. He approaches a local boxing coach named "Gym" Jones (Danny Nussbaum) and convinces him to train the young men in the town. The club is open to anyone who is interested, regardless of their skill level, and soon a group of young men sign up to train.
The film is structured around the training sessions at the club, as well as the personal lives of the main characters. We see the boys working hard to hone their boxing skills, while also confronting their own personal demons. One character, Tony (Toby), is struggling to come to terms with his homosexuality, while another, Alan (James Lance), is dealing with the aftermath of a traumatic event from his childhood.
As the boys get better at boxing, they begin to gain confidence and self-respect. For many of them, the boxing club becomes a way to escape the problems of their daily lives and find a sense of purpose. However, there are also conflicts within the group, particularly between Tony and another member named Tim (Thomas Coulter).
As the film progresses, we see the boys preparing for a big boxing match against a rival club. The tension between the two groups builds, and there are some surprising twists as the match draws near.
Throughout the film, Hoskins gives a powerful performance as the kind-hearted but somewhat naive Darcy. He is a man who truly believes that he can make a difference in the lives of these young men, and his dedication to the club is unwavering. Nussbaum is also excellent as the gruff but caring Gym Jones, who gradually grows to care deeply for his young athletes.
The young actors who play the boxers are also very impressive, particularly Toby, who brings a quiet intensity to his role as Tony. His struggle to come out as gay is handled with sensitivity and compassion, and his performance is both heartbreaking and inspiring.
The film's director, Shane Meadows, is known for his raw, realistic style, and Twenty Four Seven is no exception. The movie has a gritty, documentary-like feel to it, and the characters are all portrayed as flawed and complex individuals.
Overall, Twenty Four Seven is a powerful and inspiring drama that explores themes of community, friendship, and the power of sports to bring people together. The film is anchored by strong performances from Hoskins and Nussbaum, as well as a talented ensemble cast of young actors. It is a true testament to the resilience of the human spirit and a celebration of the power of hope and perseverance in the face of adversity.