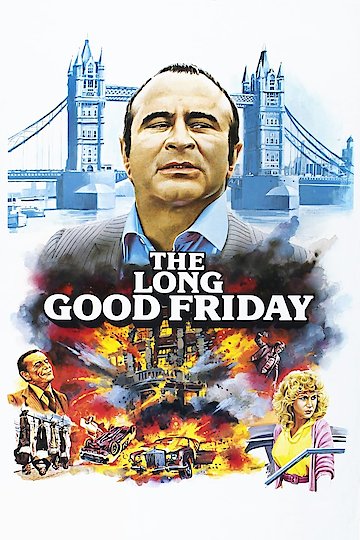 Watch The Long Good Friday
"Who lit the fuse that tore Harold's world apart?"
R
1980
1 hr 54 min
82
The Long Good Friday is a British crime-thriller movie from 1980 that chronicles the rise and fall of a tough and ambitious underworld kingpin in London's criminal underworld. The film follows Harold Shand, a successful businessman who is also a ruthless crime lord with his fingers in various illegal activities such as protection rackets and smuggling. Harold Shand (played by Bob Hoskins) is planning a huge development project that he hopes will help him legitimize his criminal empire and cement his position as a powerful figure in London's underworld. However, his plans hit a snag when a series of bombings and assassinations take place across the city, throwing the criminal fraternity into chaos and threatening to ruin Harold's grand ambitions. As the violence and chaos escalate, Harold struggles to keep everything together and maintain control over his empire. He quickly realizes that he's not the only one vying for power, and is forced to confront a host of competing criminal elements, including the IRA, who are determined to upset his carefully laid plans. Amidst all the chaos and bloodshed, Harold's relationship with his girlfriend, Victoria (played by Helen Mirren), also comes under strain. As the violence threatens to engulf their lives, they begin to question whether their love can survive amidst the brutal realities of the criminal underworld. The Long Good Friday is a taut and tense film that offers a fascinating glimpse into the sleazy and violent world of organized crime. Bob Hoskins delivers a tour-de-force performance as Harold, bringing to life a complex and charismatic character who is both ruthless and vulnerable. Hoskins perfectly captures Harold's struggle to stay afloat amidst a swirling maelstrom of violence and treachery. Helen Mirren, in the role of Victoria, offers a grounded and nuanced performance that adds depth and heart to the story. Her chemistry with Hoskins is palpable, and their relationship serves as an anchor amidst the violent chaos that unfolds around them. The supporting cast is also impressive, with Paul Freeman playing one of Harold's main rivals, a calculating and cold-blooded criminal mastermind who is determined to destroy Harold and seize power for himself. The movie is also notable for its incredible use of location, showcasing the gritty streets and docks of London with stunning accuracy and authenticity. The production design is top-notch, and the film's evocative score perfectly captures the mood and atmosphere of the story. Directed by John Mackenzie, The Long Good Friday is a gritty and intense thriller that has become a classic of British cinema. It's a story that holds up well even today, nearly 40 years after its initial release, and remains a compelling and thrilling portrait of organized crime and the people who inhabit that world. If you're a fan of crime dramas, this is definitely a movie that you won't want to miss.