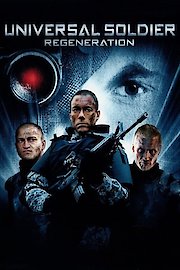 Watch Universal Soldier: Regeneration
"Reanimated. Rearmed. The ultimate rematch"
R
2010
1 hr 37 min
70
When top-secret technology gets stolen by a terrorist organization a new threat to the world arises. The terrorists create a Universal Soldier. This warrior has been genetically altered into a killing machine. They use the soldier to seize the nuclear reactor at Chernobyl and threaten the world with a radioactive cloud that is extremely lethal. A former Universal Soldier who has been decommissioned for many years is the only hope the world has against this threat. He is brought back into service and trained so that he might be able to stop this terrorist threat. He is joined by his former rival, Andrew Scott, in a mission to help save the world. This film features a former UFC fighter in Andrei Arlovski along with the classic action film star Jean-Claude Van Damme. If you are into action thrillers or a fan of Van Damme you are sure to love this movie. Be sure to keep the kids out of the room though as this movie contains a great deal of violence.