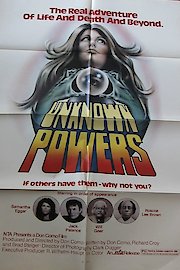 Watch Unknown Powers
"if others have them - why not you?"
PG
1978
1 hr 36 min
Unknown Powers is a 1978 science fiction film starring Jack Palance, Samantha Eggar, and Will Geer. The story revolves around a group of scientists who discover a mysterious crystal in a remote mountain range. The crystal possesses incredible powers that they are unable to fully comprehend. As they study it, they begin to realize that the crystal can provide access to unbelievable amounts of knowledge, as well as immense physical and mental abilities.
The film focuses on the relationship between two of the scientists, Doctor Rhodes (Palance) and Dr. Walker (Eggar). Rhodes is a cynical and arrogant scientist who is convinced that the crystal will only bring destruction and disaster. Walker, on the other hand, is more open-minded and optimistic, hoping that the crystal will bring humanity great advancements and progress.
Their differing viewpoints lead to tension between the two, and the group soon discovers that they are not the only ones interested in the crystal. A shadowy government organization begins to pursue them, seeking to gain control of the powerful crystal and its abilities.
As the scientists continue to work with the crystal, they uncover more of its secrets, but also find themselves in more danger. They face obstacles and challenges both from within their group and from the government agents pursuing them. The tension builds to a thrilling climax as they attempt to stop the crystal from falling into the wrong hands.
One of the standout performances in the film comes from Jack Palance, who portrays the brilliant but jaded Rhodes with depth and nuance. Samantha Eggar also delivers a strong performance as Dr. Walker, providing a balanced counterpoint to Palance's character. Will Geer rounds out the cast with a memorable portrayal of an elderly scientist who serves as the group's mentor.
The film boasts impressive special effects for its time, particularly in showcasing the crystal's powers. The cinematography and production design also stand out, creating a convincing and immersive world for the story to unfold in.
The themes explored in Unknown Powers are still relevant today, particularly in regards to the dangers of unchecked power and the responsibility that comes with great knowledge. The film asks important questions about what it means to be human, and whether or not technological advancements can truly make the world a better place.
Overall, Unknown Powers is a thought-provoking and entertaining science fiction film that should appeal to fans of the genre. Its solid performances, impressive effects, and engaging story make it a must-see for anyone interested in the possibilities and pitfalls of human progress.
Unknown Powers is a 1978 mystery with a runtime of 1 hour and 36 minutes. It has received moderate reviews from critics and viewers, who have given it an IMDb score of 6.2.