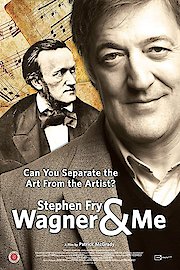 Watch Wagner & Me
Wagner & Me is a 2010 documentary film starring Stephen Fry, exploring the controversial relationship between the comedian and his childhood hero, German composer Richard Wagner. The movie follows Fry on his personal journey, as he delves into the life and works of Wagner, who he has long admired for his musical genius, but is also aware of the composer's association with anti-Semitic beliefs.
As Fry travels across Europe, visiting key locations that shaped Wagner's life, he grapples with the conflicting emotions surrounding his admiration for the music and his disdain for the man behind it. He speaks candidly to artists and historians, as well as to Holocaust survivors and Jewish leaders, trying to understand why Wagner's music still holds a place in modern culture.
Throughout the film, viewers are given an intimate look into the psyche of a man struggling to reconcile his personal beliefs with his connection to Wagner's music. Fry's candor and vulnerability make for a compelling viewing experience, as he confronts his own prejudices and attempts to come to terms with the fraught legacy of one of the world's most celebrated composers.
The film is shot beautifully, with stunning visuals of the European countryside and the various locations associated with Wagner's life. But it's the emotional journey that Fry takes that truly engages the viewer, as he confronts his own ignorance, reflects on his own identity, and grapples with the complexities of art and morality.
Wagner & Me is a fascinating exploration of one man's relationship to a complicated cultural figure. The film is both entertaining and thought-provoking, as Fry's journey encourages viewers to examine their own attitudes towards the works of provocative artists, and to grapple with the challenges of finding meaning in works of art that are also tainted by troubling histories.
Overall, Wagner & Me is a moving and engaging documentary that sheds light on a fascinating aspect of cultural history. Fry's wit, charm, and honesty make for a compelling on-screen presence, while the film's balance of history, art, and personal reflection make it a thought-provoking and ultimately rewarding viewing experience.
Wagner & Me is a 2012 music movie. It has received moderate reviews from critics and viewers, who have given it an IMDb score of 7.0 and a MetaScore of 56.