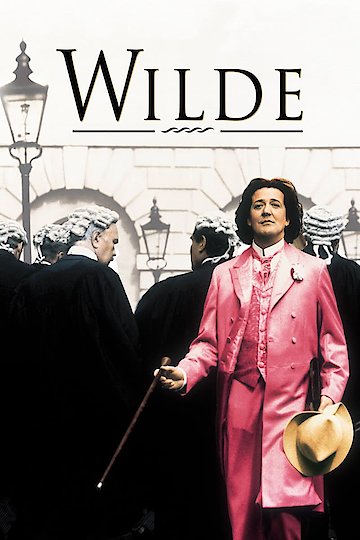 Watch Wilde
"Loved for being unique. Hated for being different."
R
1998
1 hr 58 min
70
This film offers a fictionalized glimpse into the life of the famous British writer and poet, Oscar Wilde. Directed by Brian Gilbert and released in 1997, Wilde stars Stephen Fry in the titular role and features an ensemble cast that includes Jude Law, Vanessa Redgrave, and Tom Wilkinson. The film opens on Wilde at the height of his literary fame, as he gives a speech in Paris about the aesthetic movement that he helped to pioneer. From there, the story flashes back to Wilde's earlier years in London, where he is shown as a devoted family man with a wife, Constance (played by Redgrave), and two young sons. Despite his comfortable life as a family man, Wilde is restless and yearns for more excitement and passion in his life.
Enter Lord Alfred 'Bosie' Douglas, played by Law, a young aristocrat who quickly captures Wilde's attention and becomes his lover. Wilde and Bosie's relationship is both passionate and tumultuous, with Bosie often becoming jealous and demanding of Wilde's attention. As their affair unfolds, Wilde's life begins to unravel around him. His marriage to Constance falls apart, and he faces public ridicule and condemnation for his homosexuality in a society that was deeply homophobic.
Despite the hardships that he faces, Wilde refuses to apologize for who he is and continues to live his life on his own terms. The film explores his struggles with acceptance, both internally and externally, and offers a nuanced portrayal of Wilde as a complex and flawed human being.
One of the most striking aspects of the film is Fry's portrayal of Wilde, which is both empathetic and nuanced. Fry masterfully captures Wilde's wit and charm, as well as his vulnerabilities and fears. The rest of the cast also shines, particularly Law as Bosie, who brings a sense of danger and unpredictability to the role.
In addition to its strong performances, Wilde also benefits from its lavish production design and costuming. The film captures the opulence and decadence of Wilde's world, with stunning sets and costumes that evoke the spirit of the time.
Overall, Wilde is a moving and thought-provoking film that offers a fresh perspective on one of the most iconic figures in literary history. It portrays Wilde not as a one-dimensional icon, but as a fully realized human being with flaws and complexities, making it a must-see for anyone interested in the life and work of Oscar Wilde.
Wilde is a 1998 drama with a runtime of 1 hour and 58 minutes. It has received mostly positive reviews from critics and viewers, who have given it an IMDb score of 6.9 and a MetaScore of 70.