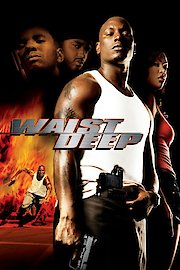 Watch Waist Deep
"His son. His life. His freedom. He's taking them all back."
R
2006
1 hr 27 min
37
Waist Deep is a fast-paced, action-packed crime-thriller that came out in 2006. The movie starred Tyrese Gibson as O2, a former gangster who has turned his life around and now runs his own business. Meagan Good played his ex-girlfriend, Coco, and Larenz Tate played her new boyfriend, a notorious gangster named Meat. The plot of the film centers around O2 and his young son, Junior, who gets kidnapped by a group of ruthless thieves while O2 is picking up some cash from a pawn shop. O2, who is on parole and cannot go to the police, makes the bold decision to take matters into his own hands and rescue his son himself.
With the help of an old friend named Lucky (played by The Game), O2 sets out on a dangerous mission to retrieve his son and bring him home safely. The movie follows O2 and Lucky as they race through the mean streets of Los Angeles, facing off against some of the city's most dangerous criminals.
As the story progresses, we learn more about O2's troubled past and his struggle to stay on the straight and narrow. We also see Coco's conflicted feelings towards O2 as she begins to realize that he is the only one who can save their son.
The movie is filled with fast-paced action sequences, intense car chases, and gripping shootouts. It's a movie that will keep you on the edge of your seat and leave you wanting more.
The performances in the film are all solid, with Tyrese Gibson delivering a standout performance as O2. Meagan Good also shines as Coco, while Larenz Tate is convincingly menacing as the villainous Meat.
The cinematography is slick and stylish, capturing the gritty beauty of Los Angeles' urban landscape. The film's soundtrack is also noteworthy, featuring songs by artists like The Game, Lil Jon, and Akon.
Overall, Waist Deep is a thrilling crime-drama that is well worth a watch. It's a movie that will leave you breathless, with its non-stop action and heart-pumping suspense. If you're a fan of fast-paced, adrenaline-fueled films, then this is definitely a movie you won't want to miss.
Waist Deep is a 2006 action movie with a runtime of 1 hour and 27 minutes. It has received mostly poor reviews from critics and viewers, who have given it an IMDb score of 5.8 and a MetaScore of 37.