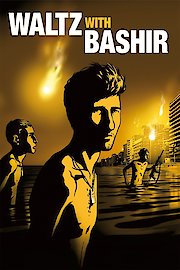 Watch Waltz with Bashir
R
2008
1 hr 26 min
91
Waltz with Bashir is a mesmerizing animated film directed by Ari Folman that delves into the filmmaker's own experience as a soldier during the 1982 Israeli invasion of Lebanon. The movie premiered at the Cannes Film Festival in 2008 and received widespread critical acclaim for its unique blend of animation, documentary, and personal memoir.
The film opens with a dreamlike sequence in which the protagonist, Ari, is pursued by a pack of wild dogs through the streets of Tel Aviv. This unsettling image sets the tone for the film's exploration of the trauma and psychological scars of war. Ari is haunted by flashbacks of his time in Lebanon, but he has repressed his memories and is unable to remember what happened.
Determined to uncover the truth, Ari embarks on a journey to interview his fellow soldiers and other eyewitnesses to the war. The film blends live-action interviews with animated reenactments of the events described, creating a surreal and immersive experience for the viewer.
As Ari delves deeper into his past, he discovers not only the horrors of war but also the moral ambiguity and confusion that characterized the Israeli military's actions in Lebanon. The film raises important questions about the ethics of warfare and the responsibility of soldiers and their superiors.
The animation style of the film is both beautiful and haunting, with a dreamlike quality that emphasizes the phantasmagoric nature of Ari's memories. The use of animation also allows the film to depict the horrific violence of war in a way that would be impossible with live-action footage.
Despite its heavy subject matter, Waltz with Bashir is not entirely bleak. The film includes moments of dark humor and absurdity, as well as a powerful sense of human connection and empathy. The film's emotional impact is increased by its use of an original score composed by Max Richter, which enhances the dreamlike atmosphere of the film.
Overall, Waltz with Bashir is a powerful and deeply affecting film that provides a personal and insightful perspective on the realities of war. By blending animation with documentary, the film creates a unique and innovative approach to storytelling that captures the trauma and complexity of war in a way that is both beautiful and haunting.
Waltz with Bashir is a 2008 drama with a runtime of 1 hour and 26 minutes. It has received poor reviews from critics and viewers, who have given it an IMDb score of 8.0 and a MetaScore of 91.