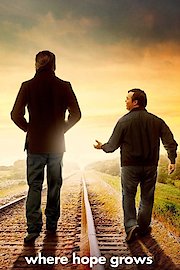 Watch Where Hope Grows
"An unexpected journey. An unexpected friendship."
PG-13
2015
1 hr 35 min
41
Where Hope Grows is a heartwarming drama film directed by Chris Dowling and released in 2014. The movie tells the story of a former professional baseball player, Calvin Campbell (Kristoffer Polaha), who has sunk into depression and alcoholism after a career-ending mistake. Calvin now lives in a small town in Indiana and works at a grocery store to support himself. Despite his popularity among the locals, Calvin is bitter and struggles to find meaning in his life. However, his routine is shaken up when he meets a young man named Produce (David DeSanctis), who works as a stock boy at the same store.
Produce, who has Down syndrome, is full of joy, positivity, and passion for life. Calvin is initially skeptical of Produce's unusual behavior, but he soon discovers that Produce's enthusiasm and outlook on life are infectious. The two develop an unlikely friendship and Calvin realizes that Produce has a lot to teach him about hope, faith, and love.
As Calvin spends more time with Produce, he learns about the young man's dreams and ambitions, such as becoming a professional wrestler. However, Produce's goal is met with disapproval from his overprotective and controlling mother, who wants him to live a conventional life. Calvin becomes Produce's mentor and helps him pursue his dreams, even if it means going against his mother's wishes.
Meanwhile, Calvin deals with his own problems, such as reconnecting with his estranged daughter, Katie (McKaley Miller), and overcoming his addiction to alcohol. Katie resents her father for abandoning her when she was a child, but as they spend time together, they begin to form a bond. Calvin also attends Alcoholics Anonymous meetings and befriending a fellow member, which helps him stay sober and deal with his guilt.
Ultimately, Where Hope Grows is a story of redemption, second chances, and the power of friendship. The movie explores themes of forgiveness, self-discovery, and acceptance. It showcases the importance of having hope in dire situations, even when it seems impossible. The performances by the main cast are heartfelt and genuine, especially David DeSanctis, who delivers a powerful portrayal of Produce.
Overall, Where Hope Grows is a touching movie that will leave viewers inspired and uplifted. It's a tribute to the human spirit and a reminder that sometimes it takes a little help from unexpected sources to find hope in the darkest of times.
Where Hope Grows is a 2015 drama with a runtime of 1 hour and 35 minutes. It has received mostly poor reviews from critics and viewers, who have given it an IMDb score of 6.6 and a MetaScore of 41.