Watch Winnie the Pooh
"Oh Pooh."
This movies main plot centers around Eeyore's tail. Winnie the Pooh discovers that his friend is missing his tail and alerts the rest of their friends of what has happened. Pooh tells everyone that they should help find a replacement tail for Eeyore. Tigger, Rabbit, Piglet, Kanga, Roo, and Owl all agree. Christopher Robbin also agrees to help but suggest that it should be a contest. They all agree that the winner will win a pot of honey.
The following day, Pooh goes to visit Christopher Robbin but he is not home. Pooh sees a note on the door but cannot read. With the help of Owl, who cannot read to well himself, they mistakenly believe that the note says that Christopher Robbin has been abducted by Backson, who is believed to be an evil monster. Pooh and friends set up a trap for Backson, but Pooh later falls into the trap himself. Everyone tries to get Pooh out, but they all end up falling in themselves. Pooh eventually uses his wits and forms a ladder, and the whole group of friends get out of the pit. Eventually, they all end up running in to Christopher Robbin and find out that he was never abducted by Backson.
Pooh later goes to visit Owl and discovers that Owl was the one who had taken Eeyore's tail. Owl didn't realize that it was Eeyore's tail and was using it as a pulley for his front door. Pooh returns the tail back to Eeyore, and Christopher Robbin rewards Pooh with a big pot of honey.
During the post movie credits, it is found out that Backson is not the bad and evil monster that Pooh and his friends think he is. He is friendly and ends up finding some of the gangs belongings. He starts looking for the owners of the items but falls into the trap that was initially set for him.
|
2011
|
1 hr 9 min
|

/

10
Cast

Studio

Director

Don Hall, Stephen J. Anderson

Language

English
Winnie the Pooh News
Now on YouTube: Hundreds of Disney Movies For Rent
November 23, 2011 @ 9:00 am PST
|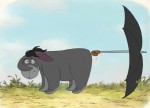 Are you down with the Mouse? If so, today's your lucky day. Hundreds (that's right -- hundreds) of Disney and Disney-Pixar movies are making their way to YouTube as part of its year-old movie rental service. The roll-out will include many of Disney's highest profile animated features.
Read More

Weekend Movie Preview: 'Harry Potter,' Duh!
July 15, 2011 @ 8:36 am PST
|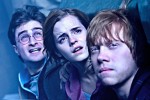 After years of books and movies, one more film in a much-loved franchise hits theaters this weekend. I'm talking, of course, about "Winnie the Pooh." What's that you say? There's a new "Harry Potter" movie out? Okay, let's talk about that instead.
Read More

Weekend Box Office: 'Harry Potter' Finale Shatters 'Dark Knight' Record
July 17, 2011 @ 10:05 am PST
|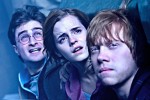 Merlin's beard! This final "Harry Potter" movie is making so much money they're going to need a second vault at Gringott's. "Harry Potter and the Deathly Hallows: Part 2" continues to break records as it passed "The Dark Knight" to gross more money domestically than any other movie in history. "Harry Potter 7" grossed somewhere between $163 million and $168.
Read More


Watch Winnie the Pooh Trailer

Winnie the Pooh Movie Trailer Official (HD)
|
2:11
Watch Winnie the Pooh Online - Watch online anytime anywhere: Stream, Buy, Rent
Winnie the Pooh is currently available to watch and stream, buy, rent on demand at Amazon, Vudu, Google Play, YouTube VOD, iTunes online.