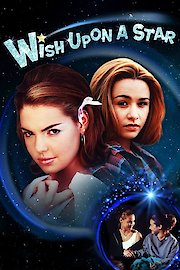 Watch Wish Upon a Star
"I wish I may, I wish I might, become my sister for a night!"
PG
1996
1 hr 29 min
"Wish Upon a Star" is a heartwarming family-friendly fantasy movie from 1996 that follows two sisters with very different personalities and their journey through a magical experience. Alexia Wheaton, played by Katherine Heigl, is a popular, beautiful, and self-centered high school senior who appears to have it all - the perfect boyfriend, decent grades, and a great social life. On the other hand, her younger sister Stephaie, portrayed by Danielle Harris, is an intelligent, hardworking, and somewhat nerdy freshman who struggles to find her place in the social hierarchy of their high school.
Despite their very different personalities and lifestyles, the two sisters share a similar fate - they both have a hidden desire to live each other's lives. While Alexia wishes she could have Stephanie's studious abilities, her sister secretly yearns for her beauty and popularity. Their wish comes true when a shooting star magically lands in Alexia's backyard, and she makes a wish that they could trade places.
Alexia's wish is granted, and the two sisters wake up in each other's bodies the next morning, completely disoriented and confused. They soon realize that they are trapped in this new reality, and have to navigate the challenges of their respective lives while keeping their true identities a secret from everyone around them.
As the movie progresses, the sisters learn to appreciate each other's strengths and weaknesses and grow closer than ever before. Alexia, who initially revels in her newfound popularity and attention, realizes the shallowness of her previous lifestyle and the kind of person she wants to be. Stephanie, on the other hand, learns to stand up for herself and enjoy the little pleasures of life she once disregarded.
Along the way, the sisters face several challenges and obstacles that test their bond and their newfound appreciation for each other. Alexia struggles to keep up with her schoolwork and extracurricular activities, while Stephanie has to deal with the social pressures of being popular and the attention of her sister's ex-boyfriend. They also have to contend with a pair of annoying neighborhood boys who suspect that something strange is going on, and an evil spirit who demands that they reverse their wish and restore the balance of the universe.
The movie is filled with humor, drama, and heartwarming moments that make it a perfect family-friendly film. The performances by Katherine Heigl and Danielle Harris are exceptional, and they do a fantastic job of portraying the two sisters and the nuances of their personalities. Donnie Jeffcoat plays the role of the love interest to perfection, and his chemistry with Katherine Heigl is charming and endearing.
The movie also has a few life lessons that are relevant even today. It shows the importance of appreciating what you have and the dangers of taking things for granted. It also highlights the value of family and the love between siblings, despite the differences in their personalities and interests.
Overall, "Wish Upon a Star" is an entertaining and uplifting movie that is perfect for a family movie night. It is a relatable story with relatable characters and is guaranteed to leave you feeling warm and fuzzy on the inside. It is a must-watch movie for anyone who loves a good story about sisterhood and family values.
Wish Upon a Star is a 1996 tv movie with a runtime of 1 hour and 29 minutes. It has received mostly positive reviews from critics and viewers, who have given it an IMDb score of 6.6.