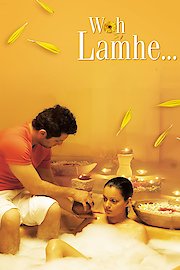 Watch Woh Lamhe
Woh Lamhe is a Bollywood romantic drama film that was released in 2006. Directed by Mohit Suri, the movie features Kangana Ranaut, Shiney Ahuja and Shaad Randhawa in lead roles. The story of the film revolves around the love story of a famous Bollywood actress and a struggling filmmaker who fell in love with her. The movie opens with a successful Bollywood actress named Sana Azim (Kangana Ranaut) who is suffering from schizophrenia after her breakup with a filmmaker named Aditya Garewal (Shiney Ahuja). She experiences constant hallucinations and delusions that make it difficult for her to distinguish reality from imagination. The story then shifts to flashback mode, where we see Sana and Aditya's relationship getting stronger, despite the constraints of the film industry.
Aditya, a talented filmmaker, is struggling in the film industry, and he gets his big break when he is hired to direct a movie starring Sana. Their initial interactions are rocky as Sana gets annoyed by Aditya's lack of professionalism. However, they discover a shared love for poetry, which brings them closer together. Eventually, Sana falls in love with Aditya, and they begin a passionate love affair.
As they spend more time together, Sana's mental health starts deteriorating, and she becomes increasingly paranoid about the relationship. Aditya, on the other hand, is determined to help Sana overcome her illness and accepts her for who she is. However, their love story is not without its complications, and they face opposition from their respective families, as well as the film industry.
Throughout the film, the audience is taken on an emotional journey as they witness the highs and lows of Sana and Aditya's relationship. The beautiful and heartwarming moments of their love story are juxtaposed with Sana's struggles with her illness. The film also delves deep into the darker side of the film industry, where exploitation and manipulation are pervasive.
The performances of Kangana Ranaut and Shiney Ahuja as Sana and Aditya, respectively, are exceptional. Kangana Ranaut's portrayal of a woman suffering from schizophrenia is nuanced and sensitive, and she perfectly captures the character's emotional turmoil. Shiney Ahuja's performance as Aditya is equally remarkable, and he does an excellent job of showcasing the character's passion and dedication towards filmmaking and his love for Sana.
Shaad Randhawa plays the role of Sana's former lover and fellow actor, Nikhil, who serves as a reminder of Sana's past and gives the audience an insight into her previous relationships. His performance is restrained and complements the two main leads' acting.
The music of the film is also a highlight, with tracks like "Kya Mujhe Pyar Hai" and "Chal Chale" becoming popular hits. The songs of the film are soulful and intense, perfectly complementing the film's dramatic and romantic themes.
In conclusion, Woh Lamhe is a beautiful and poignant love story that explores the complexities of mental health, relationships, and the film industry. The film is a must-watch for fans of romantic dramas and showcases the fine acting talents of Kangana Ranaut and Shiney Ahuja.