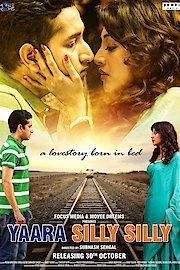 Watch Yaara Silly Silly
"A love story born in bed"
2015
1 hr 46 min
Yaara Silly Silly is a Hindi romantic drama film released in 2015. Directed by Subhash Sehgal, the movie stars Parambrata Chattopadhyay, Paoli Dam, and Eva Grover in lead roles. The film is a love story of a prostitute named Mallika (played by Paoli Dam) and a writer named Nirban (played by Parambrata Chattopadhyay). The two characters meet each other in a red-light district of Kolkata, and a series of events follow that lead to Nirban hiring Mallika for a short period as a muse to help him complete his novel. As the story progresses, the two characters discover a deeper connection beyond sex work and writing. Mallika remains hopeful while Nirban tries to escape from the reality of his love for Mallika. The movie is a heartwarming tale of love between two people from different backgrounds and how they try to overcome the societal and personal challenges that come with their unconventional romance. Paoli Dam delivers a brilliant performance as Mallika, a character who is often exploited and exploited simultaneously. Her performance as a sex worker is nuanced and empathetic, making the audience sympathize with her situation. Parambrata Chattopadhyay also gives a stellar performance as Nirban, a character struggling to come to terms with his unusual relationship with Mallika. The chemistry between the two actors is palpable and adds depth to their performances. Apart from the lead actors, Eva Grover also plays a noteworthy role as Mallika's mother. Her performance as a strong-willed and sensible mother is impressive and adds depth to the story. She tries to protect her daughter and provide her with opportunities to leave the life of prostitution. Yaara Silly Silly takes you through a rollercoaster of emotions. The romantic scenes between Mallika and Nirban are subtle yet intense. The movie's music is also stunning and fits the movie's tone and pace, with songs like "Saiyaan Bedardi" and "Behki" leaving a lasting impression. The movie's background and setting in Kolkata's red-light district offer a unique perspective on the lives of sex workers. The movie tries to portray the life of sex workers with a realistic approach, which is seldom dealt with in Indian cinema. The narrative provides empathy for the characters, and the climax of the film is emotional and satisfying. Overall, Yaara Silly Silly is a romantic drama that offers a fresh take on unconventional love. The film's performances, setting, and narrative make it a must-watch for movie buffs who enjoy a good love story. The movie may not be for everyone, but it is worth exploring for its nuanced performances and unique storyline.