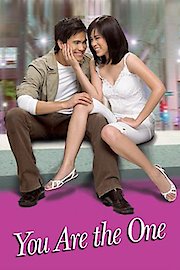 Watch You Are the One
"Would you rather love someone who completes you... Or someone who loves you completely?"
2006
1 hr 55 min
You Are the One is a 2006 romantic comedy film directed by Cathy Garcia-Molina, starring Toni Gonzaga, Sam Milby, and Jodi Sta. Maria. The movie follows the story of Sally Malasmas (Toni Gonzaga), a sales clerk who is looking for her soulmate. She then meets two handsome men, Marko (Sam Milby), an advertiser, and Gino (also played by Sam Milby), a simple guy who works as a jeepney driver. Both men are vying for her attention and love. Sally, who is fed up with her mundane life, dreams of finding her one true love who would take her away from her monotonous existence. In the middle of her quest, she met Marko, who comes from a well-off family and is very charming. Sally falls in love with him instantly, and she believes that Marko might be the one she has been waiting for. However, she eventually discovers that Marko is engaged, and she is heartbroken. While she is still trying to move on from Marko, she met Gino, who is very opposite of Marko. Gino is a simple man who is contented with his life as a jeepney driver, and he does not have much to offer aside from his love for Sally. Despite their differences and her initial hesitations, Sally started to develop feelings for Gino. However, her heart is still torn between the two men. The film explores the concept of love, loyalty, and adjusting to life-changing situations. It depicts how individuals determine their priorities and choose the kind of life they want to lead. Sally's character shows how love can be complicated, and how people struggle to make choices. The movie also reflects how people deal with the consequences of their decisions and how they cope with failure. Moreover, the movie also features the importance of family and friends. Sally's sister, played by Jodi Sta. Maria, serves as her confidante throughout her journey to find love. Her sister's character is supportive and honest, and she continuously reminded Sally of the value of family and friendship. The film also examines how people often take for granted the people who are always there for them. The film's storyline is intriguing, captivating, and well-written. The movie's humor inserts witty puns and one-liners that maintain a light and entertaining ambiance. The cinematography and location are visually stunning, which added an extra layer of romance to the film. The artists' performances are remarkable, and the chemistry among the cast is undeniable. Toni Gonzaga portrayed Sally's character genuinely and realistically, showing her complexities as a person. Sam Milby depicted Marko's character with clarity, making the audience understand the reasons behind his personality. Lastly, Sam Milby's portrayal of Gino is charming, sweet, and humble, making the audience root for him throughout the movie. In conclusion, You Are the One is a must-watch film for anyone who loves romantic comedies. The movie's humorous nature, remarkable performances, and eye-catching locations make it a classic Filipino rom-com. It is a movie that leaves the audience with valuable lessons about life, love, and friendship.