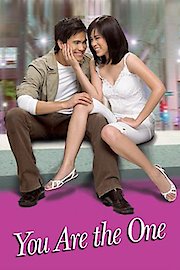 Watch You Are the One
"Would you rather love someone who completes you... Or someone who loves you completely?"
2006
1 hr 55 min
Sally lives a simple Philippine life, completely content being surrounded by loving friends and loyal co-workers. One day however, her parents convince her she should come to America and reunite their small family. When Sally goes for her Visa interview she meets Will Derby. He is a good looking guy, but things go wrong during the interview and Will denies Sally's Visa. Sally cannot believe her good luck when Will suddenly shows up at her place of work- The Census Bureau. Seeing her chance at revenge, Sally puts Will's paperwork beneath a huge pile of papers. When they finally surface, after Will has sat through a whole day of sweltering heat, she casually informs him the papers are incomplete. This romantic comedy will keep keep you smiling as you see how the two handle having to stay together into the late hours hoping to both get their papers through.