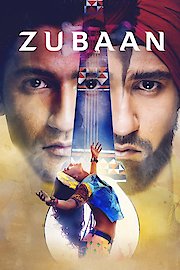 Watch Zubaan
"Find Your Music"
2016
1 hr 51 min
Zubaan is a 2015 Indian musical drama film directed by Mozez Singh and produced by Guneet Monga and Shaan Vyas under the banner of Sikhya Entertainment and Metamozez Entertainment. The film stars Vicky Kaushal and Sarah Jane Dias in lead roles, with Raaghavv Chanana in a supporting role. The film revolves around the journey of Dilsher (played by Vicky Kaushal), a young Sikh boy from Gurdaspur, Punjab, who is determined to rise above his humble origins and make a name for himself in the world. He leaves his hometown and moves to Delhi to fulfill his dreams. In Delhi, he meets a young, free-spirited girl named Amira (played by Sarah Jane Dias). Amira is an aspiring singer who dreams of making it big in Bollywood.
Dilsher is initially skeptical of Amira and her carefree ways, but soon finds himself drawn to her. The two strike up an unlikely friendship, and Amira encourages Dilsher to pursue his dreams. She introduces him to a mysterious, enigmatic figure named Gurcharan Sikand (played by Raaghavv Chanana), who is a wealthy businessman and philanthropist. Gurcharan takes Dilsher under his wing and offers to help him achieve his goals.
As Dilsher becomes more deeply involved with Gurcharan, he begins to uncover the businessman's dark past. He discovers that Gurcharan is haunted by a past tragedy and is seeking redemption through a grand project that he has envisioned. Dilsher becomes embroiled in Gurcharan's world of power, money, and deceit, and must fight to maintain his own morals and values.
The film explores themes of ambition, friendship, love, loyalty, and redemption. It is a story of one man's quest for success and the challenges that he must overcome on the way. The film combines elements of drama, romance, and music. The soundtrack of the film, composed by Ashu Phatak and Ishq Bector, features a mix of traditional Punjabi folk music and contemporary Bollywood music.
The performances in the film are excellent. Vicky Kaushal delivers a nuanced and layered portrayal of Dilsher, capturing the character's strength, vulnerability, and passion. Sarah Jane Dias is charming and effervescent as Amira, breathing life into the character and making her a joy to watch. Raaghavv Chanana is mesmerizing as Gurcharan, exuding a sense of power and menace that makes him an intriguing and unpredictable figure.
The direction of the film is also top-notch. Mozez Singh has created a visually stunning film, with vibrant colors, dynamic camera work, and beautiful locations. He handles the musical sequences with sensitivity and grace, blending the music seamlessly into the narrative. Overall, Zubaan is a captivating and emotional film that is well worth watching. It is a testament to the power of cinema to tell stories that resonate with audiences from all walks of life.
Zubaan is a 2016 drama with a runtime of 1 hour and 51 minutes. It has received moderate reviews from critics and viewers, who have given it an IMDb score of 6.1.