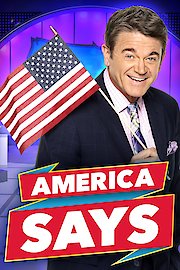 Watch America Says
TV-PG
2018
5 Seasons
America Says is a fast-paced family game show that premiered on the Game Show Network in 2018. The show is hosted by John Michael Higgins, an experienced actor and comedian best known for his work in movies like Best in Show and Pitch Perfect. The show also features Russell Rope as the announcer, and Richard Rossi as the team captain of the first team.
The premise of the show is simple: two teams of four players each try to guess the answers to survey questions that were asked to a random group of 100 Americans. The questions cover a wide variety of topics, from popular culture to current events, and the answers are often surprising and unexpected.
Each round of the game begins with the host reading out a question to the teams. The survey answers are displayed on a large board on the stage, with each answer represented by a blank space. The teams take turns giving their answers, and if an answer matches one of the survey responses, it is revealed on the board and the team scores points. If a team gives an incorrect answer, or if they take too long to respond, their turn ends and the other team gets a chance to answer.
The game is won by the team that scores the most points after three rounds of play. The winning team gets to play the bonus round, where they have to guess the top answers to a new set of survey questions in order to win a cash prize.
What makes America Says such an entertaining show to watch is the combination of fast-paced gameplay and the unpredictable nature of the survey responses. The show is full of exciting moments as the teams race to come up with answers that match the survey results, and there are plenty of surprises along the way.
John Michael Higgins is a fantastic host, bringing his trademark wit and humor to the show and keeping the energy level high throughout each episode. Russell Rope's enthusiastic announcing helps to amp up the tension as the teams battle it out, and Richard Rossi's leadership of the first team is always entertaining to watch.
Overall, America Says is a highly enjoyable game show that's perfect for the whole family. It's a fun, lighthearted way to test your knowledge of American culture and current events, and the fast-paced gameplay and unexpected answers make for a thrilling viewing experience.
America Says is a series that is currently running and has 5 seasons (537 episodes). The series first aired on June 18, 2018.