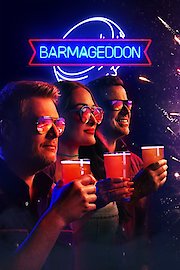 Watch Barmageddon (2022)
Barmageddon is a captivating reality television show that takes viewers into the exciting and competitive world of bar ownership and management. Premiering on the USA Network in 2022, this thrilling series follows aspiring entrepreneurs as they are put to the ultimate test in their quest to revitalize struggling bars and turn them into successful and profitable ventures.
Set against the backdrop of various vibrant cities across the United States, Barmageddon brings together a diverse group of individuals who share a common dream of transforming failing bars into thriving hotspots. Each episode features two contestants, hand-picked for their passion, creativity, and experience in the hospitality industry, as they compete head-to-head to revive struggling establishments within a limited timeframe.
Throughout the show, these ambitious contestants face a series of intense challenges designed to test their knowledge, strategic thinking, and innovative ideas. They must prove their ability to identify the flaws in poorly managed bars and devise strategic plans for improvement in order to impress the show's esteemed panel of judges. These judges, comprising industry experts, bar owners, and successful restaurateurs, have a wealth of experience and are not afraid to provide honest and constructive feedback.
From remodeling the bar's physical space to reworking outdated menus, contestants must employ their business acumen and creative thinking to tackle each challenge. Alongside their own individual skills, they are also able to leverage the support of a team of talented experts, including renowned mixologists, interior designers, and marketing gurus, who provide invaluable advice and assistance throughout the process.
One of the highlights of Barmageddon is the creativity and innovation showcased by the contestants. Whether it's conceptualizing unique signature cocktails, creating a standout atmosphere, or implementing clever marketing strategies to attract a wider clientele, each competitor brings their own distinctive style and expertise to the table. Viewers are treated to a variety of thrilling bar transformations that not only breathe new life into these establishments but also inspire and entertain.
The show explores the personal journeys of the contestants as they confront the various obstacles and setbacks that arise. Emotions run high as they face time constraints, budget limitations, and unexpected challenges. As each episode unfolds, we witness the intricate process of bar revival, highlighting the immense dedication, resilience, and determination required to succeed in this highly competitive industry.
Beyond the exciting bar makeovers and intense challenges, Barmageddon also delves into the personal dynamics and conflicts that arise between contestants. As they compete against each other, friendships are formed, alliances are tested, and rivalries emerge. These interpersonal relationships not only add an extra layer of drama and tension but also reinforce the show's underlying message of teamwork and collaboration in the pursuit of success.
Barmageddon offers viewers a fascinating glimpse into the inner workings of the bar industry, from both a business and creative standpoint. The show celebrates the art of mixology while shedding light on the often overlooked aspects of running a successful bar, such as effective management, customer service, and the ability to adapt to ever-changing trends.
Overall, Barmageddon is an exhilarating reality TV series that combines elements of entrepreneurship, design, and entertainment. With its high-stakes challenges, unique transformations, and compelling personal stories, the show captivates audiences and provides a fresh perspective on the world of bars and nightlife. So, tune in as these ambitious contestants navigate the rollercoaster journey of bar ownership, leaving an indelible mark on the industry, one episode at a time.
Barmageddon (2022) is a series that is currently running and has 2 seasons (13 episodes). The series first aired on December 5, 2022.