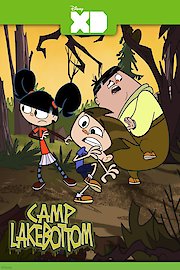 Watch Camp Lakebottom
TV-Y7
2013
3 Seasons
Camp Lakebottom is a Canadian animated television series that aired from 2013 to 2017. Produced by 9 Story Media Group in collaboration with Atomic Cartoons, the show follows the adventures of a 12-year-old boy named McGee, who finds himself at a mysterious summer camp called Camp Lakebottom. Along with his new friends, Gretchen and Squirt, he discovers that this is no ordinary camp, but rather a strange and dangerous place filled with supernatural creatures and magical adventures.
The show's main character, McGee, is a fun-loving and adventurous kid who is always up for a challenge. He loves to explore new places and try out new activities, which is what leads him to Camp Lakebottom in the first place. Despite the camp's spooky reputation, McGee is determined to make the most of his time there and have as much fun as possible.
McGee's two best friends at camp are Gretchen and Squirt. Gretchen is a smart and resourceful girl who serves as the group's voice of reason. She is always coming up with clever solutions to the problems they face, and she is also a talented inventor who makes use of the camp's abundant supplies to create all sorts of gadgets and machines. Squirt, on the other hand, is a hyperactive and impulsive boy who loves to cause chaos and make things difficult for his friends. Despite his often reckless behavior, Squirt is a loyal friend who will always come through in a pinch.
The other main characters at Camp Lakebottom are the camp counselors, McGee's arch-nemesis Jordan Buttsquat, and a variety of strange and supernatural creatures. The counselors are a diverse bunch, each with their own quirks and personalities. There's Sawyer, the tough but fair leader, Armand, the eccentric arts and crafts expert, and Rosebud, the sweet and gentle nurse. Jordan Buttsquat, on the other hand, is the obnoxious and arrogant leader of the rival camp across the lake. He is constantly trying to one-up McGee and prove that his camp is better, but usually just ends up making a fool of himself.
The supernatural creatures at Camp Lakebottom are perhaps the most interesting aspect of the show. From giant mutant mosquitoes to sassy witches to talking toilets, there is no shortage of bizarre and outlandish creatures in this world. McGee and his friends must navigate these strange beings while also trying to unravel the mysteries of the camp itself.
Overall, Camp Lakebottom is a fun and entertaining show that will appeal to kids and adults alike. With its catchy theme song, likable characters, and imaginative setting, it offers a unique blend of comedy, adventure, and supernatural thrills. Whether you're a fan of classic camp movies like Meatballs and Friday the 13th or just looking for a new animated series to enjoy with your family, Camp Lakebottom is definitely worth checking out.
Camp Lakebottom is a series that is currently running and has 3 seasons (174 episodes). The series first aired on July 13, 2013.