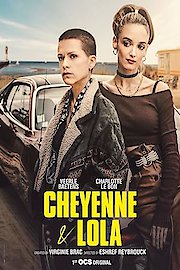 Watch Cheyenne & Lola
Cheyenne & Lola is a French crime drama series created by Virginie Brac and premiered in 2020 on OCS Max. The show revolves around the lives of two women, Cheyenne and Lola, as they navigate through the criminal underworld of Paris. Cheyenne is a young woman from a disadvantaged background who works as a security guard at a shopping mall. She is tough and streetwise, but has a vulnerable side that she only shows to her closest friends. When her sister is kidnapped and held for ransom, Cheyenne sets out to find her and bring her back home.
Lola, on the other hand, is a successful lawyer who lives in the posh 16th arrondissement of Paris. She has a husband and two children, and on the surface, appears to have it all. However, she is hiding a dark secret - she moonlights as a high-class escort to pay off her debts and maintain her lavish lifestyle.
When their paths cross, Cheyenne and Lola find themselves drawn into a dangerous world of organized crime, corruption, and violence. They form an unlikely alliance and team up to take down the people responsible for their respective problems.
One of the strengths of the show is its exploration of complex female characters. Cheyenne and Lola are both flawed, but also determined and resourceful. They are not just victims or sidekicks - they are the driving force behind the plot. The show also sheds light on important social issues such as poverty, immigration, and the exploitation of women.
The acting in Cheyenne & Lola is top-notch. The two leads, played by Veerle Baetens and Charlotte Le Bon, deliver nuanced performances that showcase their range as actors. Baetens brings a raw intensity to her role as Cheyenne, while Le Bon infuses Lola with an air of sophistication and vulnerability. The supporting cast is also strong, with standout performances from Lubna Azabal as a ruthless crime boss and Tcheky Karyo as a wily private detective.
Another notable aspect of the show is its cinematography. The Parisian setting is beautifully captured, with shots of iconic landmarks such as the Eiffel Tower and Notre-Dame Cathedral. The show's color palette evokes a gritty, neo-noir aesthetic that suits the tone of the story.
Despite its strengths, Cheyenne & Lola is not without its flaws. The pacing can be uneven at times, with some episodes feeling slower than others. The show also tries to tackle too many subplots, which can lead to confusion and plot holes.
Overall, Cheyenne & Lola is an engaging and gritty crime drama that offers a fresh perspective on the genre. Its complex characters, stunning visuals, and strong performances make it a must-watch for fans of the genre.
Cheyenne & Lola is a series that is currently running and has 1 seasons (8 episodes). The series first aired on November 24, 2020.