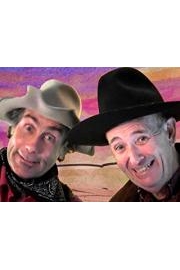 Watch Cowboy Billy's Hat Full of Fun
Cowboy Billy's Hat Full of Fun is a Western-themed children's show that revolves around the adventures of Cowboy Billy, played by Bill Dougal, and his trusty sidekick, Dan Coyle. The show is produced by DougalVideo and is geared towards a young audience. Each episode of Cowboy Billy's Hat Full of Fun takes place in the Wild West, with Cowboy Billy and Dan Coyle embarking on a new and exciting adventure each time. From riding horses to exploring caves, there's always something going on in the world of Cowboy Billy.
The show is filled with humor and lighthearted moments, making it perfect for young children. Cowboy Billy is always cracking jokes and making silly faces, while Dan Coyle plays the role of the straight man, keeping the show grounded and focused.
One of the highlights of Cowboy Billy's Hat Full of Fun is the music. Each episode features several catchy songs that are sure to get stuck in your head. The songs are often related to the plot of the episode and are designed to be fun and catchy.
Another key aspect of the show is the educational content. Each episode has a lesson to be learned, whether it's about the importance of teamwork, the value of honesty, or the dangers of greed. These lessons are woven into the plot of the episode in a way that's easy for children to understand.
The production values of Cowboy Billy's Hat Full of Fun are impressive, particularly for a children's show. The costumes and set design are top-notch, creating a believable Wild West atmosphere. The use of special effects is also noteworthy, particularly the use of CGI to create some of the more fantastical elements of the show.
Overall, Cowboy Billy's Hat Full of Fun is an excellent children's show that's sure to keep young viewers entertained and engaged. With an emphasis on humor, music, and education, it's a great way for children to learn while having fun. So saddle up and join Cowboy Billy on his next adventure!
Cowboy Billy's Hat Full of Fun is a series that is currently running and has 1 seasons (7 episodes). The series first aired on October 1, 2017.