Watch WWE Pay-Per-View
WWE Pay-Per-View events occur every live every month, always on Sunday evenings. The WWE is the predominant pro wrestling company in the world and WWE Pay-Per-View events are some of the most watched events on pay-per-view television every month. All of the WWE events feature the elite of the WWE locker room. WWE Superstars such as John Cena, Triple H, The Undertaker, Sheamus, C.M. Punk, Beth Phoenix, Chris Jericho, Alberto Del Rio, Kane, Daniel Bryan, The Great Khali, Randy Orton, Wade Barrett, Kofi Kingston and The Rock have all have appeared on recent WWE Pay-Per-View events.
Each WWE Pay-Per-View event has a thematic element to the card. WrestleMania is held every year in April and is the penultimate event on the WWE calendar. WWE heroes of the past have had the brightest lights in professional wrestling shine on them at WrestleMania. The biggest stars in history from Hulk Hogan to Ric Flair have appeared at that annual Pay-Per-View. Another interesting thing about WrestleMania is that it often has special celebrity appearances. Over the years stars such as Snoop Dogg, Mr.T, Pete Rose, Donald Trump and Kim Kardashian have been special attendees of the big event.
The WWE Survivor Series is an event that takes place every November. The Survivor Series has a special match each year that has two teams of five members square off in a special elimination style match that goes on until one team is eliminated. The WWE Royal Rumble features a special match that has 30 different Superstars attempt to throw each other out of the match until there is only one winner. The WWE Elimination Chamber is a special Pay-Per-View that has several matches held inside of a special steel cage ring where they are eliminated one by one. The WWE Money in the Bank Pay-Per-View event has two matches where between six to eight competitors fight over a briefcase that is hung on a cable above the ring. The winner of this match successfully will climb a ladder and retrieve the briefcase. WWE Night of Champions is a special event in which all five of the WWE Champions defend their respective championships.
The other WWE Pay-Per-View matches include Hell In A Cell, TLC, Over the Limit and Extreme Rules.
Sunday 8:00 PM et/pt on Pay-Per-View

28 Seasons,

294

Episodes - Special Event

9/10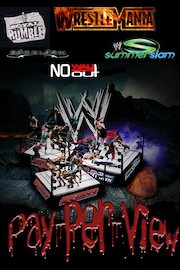 WWE Pay-Per-View

Full Episode Guide
Episode 4 - WWE Money in the Bank 2014 Kickoff (L...

Episode 3 - WrestleMania XXX - New Orleans, LA

Episode 2 - Elimination Chamber 2014 - Minneapoli...

Elimination Chamber Match Randy Orton vs. John Cena vs. Sheamus vs. Daniel Bryan vs. Antonio Cesaro vs. Christian for WWE World Heavyweight Championship

Episode 1 - Royal Rumble 2014 - Pittsburgh, PA

Match Card:Bray Wyatt vs. Daniel Bryan;Brock Lesnar vs. Big Show;Randy Orton vs. John Cena (WWE World Heavyweight Championship);30-Man Royal Rumble Match
Episode 12 - TLC: Tables, Ladders & Chairs 2013 - ...

Episode 11 - Survivor Series 2013 - Boston, MA

Episode 10 - Hell in a Cell 2013 - Miami, FL

Episode 9 - Battleground - Buffalo, NY

Episode 8 - Night of Champions 2013 - Detroit, MI

Episode 7 - SummerSlam 2013 - Los Angeles, CA

Episode 6 - Money in the Bank - Wells Fargo Cente...

Episode 5 - WWE Payback - Allstate Arena - Rosemo...

Episode 4 - Extreme Rules - Scottrade Center - St...

Episode 3 - WrestleMania XXIX - MetLife Stadium -...

Episode 2 - Elimination Chamber - New Orleans Are...

Episode 1 - 2013 Royal Rumble - US Airways Center...
If You Like WWE Pay-Per-View, Then Try...
WWE Pay-Per-View News
If we told you we got our hands on a video that involved pro wrestling, breakdancing, "the worm" and "hypnotosis," would you believe us? Believe, Yidio friends. Believe. Behold "That's the Most Illegal Thing I've Seen in Pro Wrestling." Tip of the hat to our friend Matt Metropulos, who also introduced us to "Peanut Butter Jelly Time" so many years ago. .