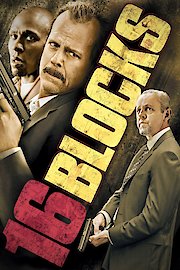 Watch 16 Blocks
"1 witness… 118 minutes…"
PG-13
2006
1 hr 30 min
63
16 Blocks is a 2006 action-thriller movie that tells the story of a cop who is assigned to transport a witness 16 blocks through the streets of New York City. The movie is directed by Richard Donner and stars Bruce Willis, Yasiin Bey, and David Morse. The movie begins with Jack Mosley, played by Bruce Willis, a disillusioned detective, who is given the job of transporting a witness named Eddie Bunker, played by Yasiin Bey, from the police station to the courthouse. Mosley is an alcoholic cop who has lost his faith in the system and is counting down the days to his retirement. Bunker is a small-time criminal who has made a deal with the District Attorney's office to testify against his ex-partners.
Mosley does not take the assignment seriously and initially finds it tedious. However, as he and Bunker start their journey, they are ambushed by a group of hitmen who are determined to kill Bunker before he can testify. Mosley manages to fend off the attackers but realizes that the entire police department is now after him, as Bunker's testimony will implicate some high-ranking officers.
What follows is a tense and gripping race against time as Mosley and Bunker try to survive and make it to the courthouse in one piece. Along the way, they face various obstacles such as corrupt cops, a powerful ganglord, and their own personal demons. Mosley is forced to confront his past mistakes and make a choice between doing what is right and saving his own skin.
The highlight of the movie is the intense and dynamic relationship between Mosley and Bunker. Mosley initially sees Bunker as just another criminal, but as they spend more time together, he starts to see the humanity in him. Bunker, on the other hand, grows to respect and trust Mosley, who he sees as his only hope for survival. The chemistry between Willis and Yasiin Bey is fantastic, and they give powerful performances that keep the audience invested in their journey.
David Morse also delivers a strong performance as Frank Nugent, a veteran cop and Mosley's former friend. Nugent is tasked with bringing Mosley and Bunker back to the station, but as he learns more about the case, he starts to question his loyalty to the department. Morse plays Nugent with depth and nuance, making him a sympathetic character who adds an emotional layer to the movie.
The action scenes in 16 Blocks are well choreographed and intense, but they never feel over-the-top or gratuitous. The movie instead focuses on the characters and their journeys, making the action scenes feel like a natural extension of the story. The cinematography is also excellent, with the gritty streets of New York City serving as the perfect backdrop for the movie's tense and claustrophobic atmosphere.
Overall, 16 Blocks is a thrilling and emotional movie that delivers both great performances and intense action. Bruce Willis, Yasiin Bey, and David Morse all give fantastic performances, making the audience care about their characters and invest in their journey. The movie's themes of redemption, loyalty, and bravery are universal, making it a movie that will resonate with audiences long after the credits roll.
16 Blocks is a 2006 action movie with a runtime of 1 hour and 30 minutes. It has received moderate reviews from critics and viewers, who have given it an IMDb score of 6.6 and a MetaScore of 63.