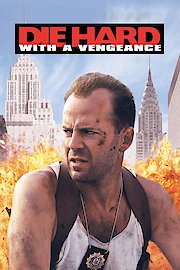 Watch Die Hard with a Vengeance
"Think fast. Look alive. Die hard."
R
1995
2 hr 11 min
58
There is a loud explosion and the city is in turmoil as the police department try to figure out who is responsible. A phone call comes through to the station by a voice being identified as Simon, and he asks for McClane (Bruce Willis). Because McClane has been suspended, he is not at the station, and his associates are being asked to find him in a hurry. McClane has to don a walking billboard with some wording that is certain to get him into trouble. A local shopkeeper Zeus Carver (Samuel L. Jackson) is observing the scene, and realizes that McClane is about to bite off more than he can chew. After helping McClane out of his difficult predicament, Zeus must now work with him as the two are forced to march to the beat of the caller on the other end of the phone. McClane tries to figure out who he is, and what his plans are. McClane eventually realizes that Simon is the brother of Hans Gruber, someone that lost his life during a previous encounter. McClane and Zeus are forced to chase a subway train and still meet a telephone deadline in the hopes of fending off a bomb, unfortunately after everything they do, the bomb still destroys the train and much of the subway station. After the train incident, the pair is sent to a park where they manage to avoid a suitcase bomb from being detonated. The chase takes the unlikely pair through the streets of New York City, and even down into the aqueduct, where heavy duty trucks are being used to transport millions of dollars worth of gold. In an effort to cover up the gold heist, Simon also installed a bomb at one of the local public schools in the New York Area. Jeremy Irons plays the part of Simon Gruber, Anthony Peck as Ricky Walsh, and Graham Greene as Joe Lambert.