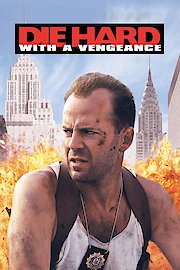 Watch Die Hard with a Vengeance
"Think fast. Look alive. Die hard."
R
1995
2 hr 11 min
58
Die Hard with a Vengeance is an action-packed thriller movie from 1995 directed by John McTiernan, starring Bruce Willis as Detective John McClane, Jeremy Irons as Simon Gruber, and Samuel L. Jackson as Zeus Carver. It is the third installment of the Die Hard franchise and takes place several years after the events of Die Hard 2. The movie begins with a terrorist attack in downtown New York City that destroys a department store. The attackers demand that police detective John McClane play a dangerous game to prevent further destruction. The terrorist is Simon Gruber, the brother of Hans Gruber, the villain from the first Die Hard movie. Simon calls McClane and tells him that he has planted bombs all over the city, and unless McClane solves his riddles, he will detonate them one by one.
McClane finds an unlikely ally in a Harlem store owner named Zeus Carver, played by Samuel L. Jackson. The two men race around the city, solving the terrorist's puzzles and fighting his henchmen. As McClane and Zeus try to track down the bombs, they also encounter corruption at the highest levels of the police department and government.
The plot of the movie is driven by the cat-and-mouse game between McClane and Gruber. Simon Gruber is a mastermind terrorist who wants revenge on McClane for killing his brother. He also has a larger plan in place to steal a large sum of gold from the Federal Reserve Bank. Gruber is intelligent, cunning, and one step ahead of McClane in most of their encounters.
The action sequences in Die Hard with a Vengeance are thrilling and intense. There are car chases, explosions, and shootouts throughout the movie. One memorable action set piece involves McClane trying to disarm a bomb while it is inside a crowded New York City subway car. The tension is high, and the stakes are even higher.
Bruce Willis delivers a strong performance as John McClane. He brings his trademark sarcasm and toughness to the role, but he also shows McClane's vulnerability and emotional depth. Samuel L. Jackson is excellent as Zeus Carver. He brings a different energy to the movie, and his banter with Willis is entertaining and funny.
Jeremy Irons is a standout as the villain, Simon Gruber. He is menacing and calculating, and his British accent adds to his charm. Irons and Willis have excellent chemistry in their scenes together, and their final confrontation is a highlight of the movie.
Die Hard with a Vengeance also has some social commentary sprinkled throughout the movie. The relationship between McClane and Zeus explores issues of race and class in America. The movie also touches on themes of police corruption and political power.
Overall, Die Hard with a Vengeance is an exciting and entertaining action movie. It has great performances, thrilling action, and a well-crafted plot. Fans of the Die Hard franchise will not be disappointed, and newcomers to the series will find it an engaging standalone film.
Die Hard with a Vengeance is a 1995 action movie with a runtime of 2 hours and 11 minutes. It has received moderate reviews from critics and viewers, who have given it an IMDb score of 7.6 and a MetaScore of 58.