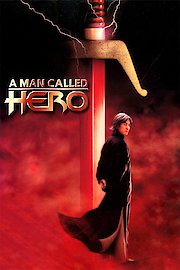 Watch A Man Called Hero
"Living up to his name…"
R
1999
1 hr 56 min
A Man Called Hero is a 1999 Hong Kong martial arts film directed by Andrew Lau and starring Ekin Cheng, Shu Qi, and Kristy Yeung. The film is based on the Manhua series of the same name by Ma Wing-shing. The movie tells the story of Hero Hua, a Chinese man born and raised in the 19th century. Hero's father was a loyal follower of the Qing Dynasty, but after he was betrayed and killed, Hero's mother was forced to take her son to the United States. There, Hero grew up and learned martial arts from a Native American shaman.
At the beginning of the film, Hero returns to China to fulfill his father's dying wish – to overthrow the Qing Dynasty and restore the Ming Dynasty to power. Hero quickly finds himself caught up in the turmoil of the time as different factions fight for control of the country.
Hero's journey takes him from the Chinatown of San Francisco to the battlefields of China, and along the way, he encounters many friends and enemies. One of his most notable nemeses is Iron Faced Buddha, an evil warlord who wants to become the ruler of China.
As Hero fights for what he believes is right, he also struggles with his own identity. He must come to terms with his mixed heritage and decide where his loyalties lie – with the Ming Dynasty, with the Native American shaman who taught him martial arts, or with the people of China who are suffering under the rule of the Qing Dynasty.
The film features stunning fight scenes choreographed by Yuen Woo-ping and a star-studded cast that includes Ekin Cheng as Hero Hua, Shu Qi as Jade, Hero's love interest, and Kristy Yeung as Green, a fighter who becomes one of Hero's closest allies. The three actors give powerful and emotional performances that bring life to the story.
A Man Called Hero is a visually stunning film that captures the beauty and brutality of the time it is set in. The film explores themes of loyalty, identity, and the struggle for power, all set against the grand backdrop of Chinese history.
Overall, A Man Called Hero is a must-watch for fans of martial arts films and anyone interested in Chinese history. The film's engaging story, strong performances, and exciting fight scenes make it a classic of the genre.
A Man Called Hero is a 1999 drama with a runtime of 1 hour and 56 minutes. It has received moderate reviews from critics and viewers, who have given it an IMDb score of 5.7.