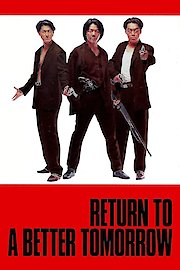 Watch Return to a Better Tomorrow
"In a world of crime Brotherhood is the most important weapon..."
NR
1994
1 hr 40 min
Return to a Better Tomorrow is a Hong Kong action film released in 1994. It was directed by Wong Jing and starred Ekin Cheng, Ching Wan Lau, and Michael Wong. The movie is a sequel to the 1986 film, A Better Tomorrow II, which was itself a sequel to the 1986 film, A Better Tomorrow. Although it is part of a series, Return to a Better Tomorrow does not continue the storylines of the previous films.
The movie is set in the near future, in the aftermath of a devastating earthquake that has left Hong Kong in ruins. The city is now run by gangs and the police are powerless to stop them. The story follows two rival gangs, the Ruins Brothers and the New Gang, who are engaged in a turf war over control of the city's most valuable resource: water.
Ekin Cheng plays a former member of the Ruins Brothers, who left the gang to start a new life with his girlfriend (played by Carmen Lee). When his brother is killed by the New Gang, he is forced to return to his old life and help his former gang members fight back. Along the way, he teams up with a tough detective (played by Ching Wan Lau) who is also trying to bring down the gangs.
Meanwhile, Michael Wong plays the leader of the New Gang, who is ruthless and determined to eliminate anyone who stands in his way. He has a personal vendetta against Ekin Cheng's character and will stop at nothing to defeat him.
As the war between the two gangs heats up, the body count rises and the stakes become higher. The movie features intense action scenes, including shootouts, car chases, and martial arts fights. The climax of the film takes place in a water plant, where the two gangs battle it out for control of the city's water supply.
Return to a Better Tomorrow is a classic Hong Kong action movie that showcases the genre's signature blend of violence, melodrama, and stylish visuals. The movie's themes of loyalty, betrayal, and redemption are common in many Hong Kong action films, and are explored in depth here. The cast delivers strong performances, particularly Ekin Cheng and Michael Wong, who are both believable as tough guys.
One of the movie's strengths is its futuristic setting, which gives it a unique look and feel. The depiction of a post-apocalyptic Hong Kong, where gangs rule the streets and water is scarce, is both grim and fascinating. The inventiveness of the filmmakers is evident in the various gadgets and weapons used throughout the film, including motorcycles with built-in machine guns and a giant water cannon.
Another standout feature of Return to a Better Tomorrow is its soundtrack, which blends Western rock music with traditional Chinese instruments. The movie's theme song, sung by Ekin Cheng, is memorable and catchy.
In summary, Return to a Better Tomorrow is a must-see for fans of Hong Kong action cinema. It boasts a strong cast, intense action scenes, and a unique futuristic setting. While it is not directly related to the previous films in the series, it stands on its own as a thrilling and entertaining movie.
Return to a Better Tomorrow is a 1994 action movie with a runtime of 1 hour and 40 minutes. It has received moderate reviews from critics and viewers, who have given it an IMDb score of 5.8.