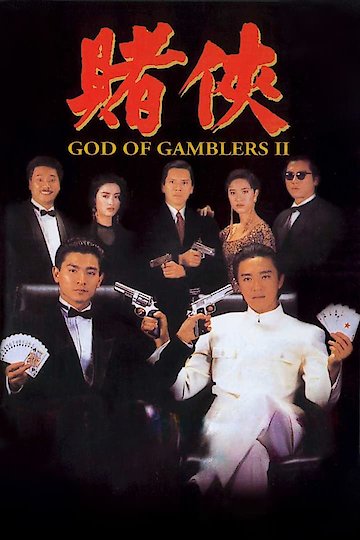 Watch God of Gamblers II
1991
1 hr 39 min
God of Gamblers II is a Hong Kong action-comedy movie released in 1990, which serves as a sequel to the original God of Gamblers movie of 1989, directed by Wong Jing. The iconic plot locations around the famous gambling culture in Hong Kong, and the movie features Hong Kong Chinese actors Andy Lau, Stephen Chow, Man-Tat Ng, among others.
The plot of the movie revolves around Sing, portrayed by Andy Lau, and his time-travel companion, Ng, who are on a mission to stop a group of gangsters from rigging an international sports betting competition. Sing discovers that he is the reincarnation of the original God of Gamblers from the first movie, and he is accompanied by an enigmatic disciple of the original God, portrayed by Stephen Chow.
The story is set against the backdrop of a grand gambling festival taking place in Thailand. Being the reincarnation of the famous gambler, Sing gets himself involved in several gambling competitions, trying to win enough money for his mission. His rival at the gambling tables is an evil gambler called Demon, with whom Sing has a history of rivalry that stretches back to the original God of Gamblers movie.
The movie is packed with funny moments, especially the scenes featuring Stephen Chow, who delivers a hilarious performance, and Man-Tat Ng, who takes on the role of an eccentric gambler with ease. The film's visuals are stunning, showcasing the vibrant side of Hong Kong's gambling culture, with luxurious casinos, colorful neon lights, and larger-than-life gambling devices.
One of the significant highlights of the movie is the blend of martial arts with gambling. The characters frequently use their fighting skills to defeat opponents at the gambling tables, which adds an extra edge to the overall excitement.
Throughout the movie, the characters engage in different forms of gambling competitions. The games include dice rolling, card games, slot machines, and other exciting gambling activities. The movie offers various unforgettable scenes that stand out for their suspenseful and humorous nature, such as when Sing competes with an unseen opponent to guess the color of a car driving by, and his comic ride on a machine that randomly selects one's lucky number.
Overall, God of Gamblers II is a fun-packed, thrilling, and action-packed movie that exhibits the sharp wit and talent of its cast and crew. The movie's plot is engaging and fast-paced, with every scene contributing to the overall excitement. The film's characters are well-developed and carry the story forward, aided by top-quality cinematography, music, and special effects.
God of Gamblers II's impact on the Hong Kong movie industry is undeniable. The film was an instant hit when it was released, and it has since become a cult classic, spawning a franchise of sequels and spin-offs. The movie showcases the uniqueness of Hong Kong's gambling culture and its fusion with martial arts and comedy, making it an entertaining and compelling movie that can be enjoyed by viewers of all kinds.
God of Gamblers II is a 1991 action movie with a runtime of 1 hour and 39 minutes. It has received mostly positive reviews from critics and viewers, who have given it an IMDb score of 6.8.