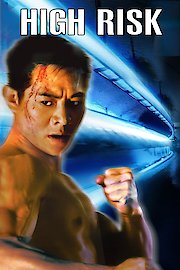 Watch High Risk
"He Redefines Revenge."
R
1995
1 hr 41 min
High Risk is a comedy martial arts film that was released in 1995. The film centers on an action star whose career is going downhill. The man knows that he needs to do something to fix things, and he decides that the only way to do this is to be an action star in real life. The man decides to do this by stealing a jewel. The robbery goes bad, but luckily the star's life is saved by his bodyguard. The bodyguard just happens to be a martial arts expert, and he is the one who ends up getting a job in a major movie.
High Risk is a 1995 action movie with a runtime of 1 hour and 41 minutes. It has received moderate reviews from critics and viewers, who have given it an IMDb score of 6.1.