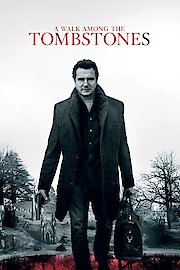 Watch A Walk Among the Tombstones
"Some people are afraid of all the wrong things"
R
2014
1 hr 54 min
57
Matthew Schrudder is a New York City police officer who battles with alcoholism. During a shootout with some thugs in a bar in New York, Schrudder accidently kills a civilian, ending with Schrudder giving up life as a police officer and an alcoholic. For support, Schrudder regularly attends alcoholics anonymous and becomes a private investigator. During this time, a drug trafficker named Kenny Kristo's wife is kidnapped and held ransom for $400,000, and after Kristo pays she ends up dead anyways. While attending Alcoholics Anonymous, Schrudder meets a fellow addict named Peter who informs him of Kenny Kristo's case. Peter tells Schrudder that Kristo is looking for someone to find his wife's killer and is willing to pay a lot of money for doing so. Schrudder is manipulated into accepting the case and meets Kristo for further details. Schrudder finds out about the murder of another woman, which leads him to more kidnappings. After finding out about the murder, the trail picks up and ends up with the kidnapping of another girl. Schrudder gets in the middle of the kidnapping to get to the man in charge.