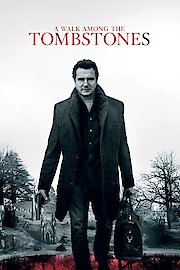 Watch A Walk Among the Tombstones
"Some people are afraid of all the wrong things"
R
2014
1 hr 54 min
57
A Walk Among the Tombstones is a thrilling crime drama that was released in 2014. It stars Liam Neeson, Dan Stevens, and David Harbour in leading roles. The movie is based on a novel of the same name by Lawrence Block. It follows the story of Matthew Scudder (Liam Neeson), a former NYPD detective who is now working as an unlicensed private investigator. He is approached by a drug dealer named Kenny Kristo (Dan Stevens), who is seeking help to find out who kidnapped and murdered his wife.
Scudder initially declines the case but later takes it up after finding out that the kidnappers have targeted other drug traffickers' wives. He quickly realizes that the kidnappers are serial killers who have been active for years, preying on the wives of wealthy drug traffickers.
Scudder teams up with a streetwise teenager named TJ (Brian Bradley) to track down the killers. Together, they are drawn into a world of organized crime and corrupt cops. The investigation takes them on a journey through the seedy underbelly of New York City as they attempt to stop the killers before they strike again.
Along the way, Scudder must confront his own demons and come to terms with the trauma of his past. He struggles with alcoholism and guilt over the death of an innocent victim during a shootout. Meanwhile, Kenny begins to unravel as he becomes obsessed with avenging his wife's death.
The movie is directed by Scott Frank, who also wrote the screenplay. Frank does an excellent job of adapting Block's novel for the big screen. He creates a tense and atmospheric thriller that keeps the audience engaged from beginning to end.
The acting in the movie is superb, with Neeson delivering an intense and nuanced performance as Scudder. Stevens brings a chilling intensity to his portrayal of Kenny, while Harbour shines in a supporting role as a troubled cop.
The movie's cinematography is also worth mentioning, with some stunning shots of New York City at night. The dark and moody visuals perfectly capture the gritty tone of the story.
A Walk Among the Tombstones is not for the faint of heart. It contains some graphic violence and disturbing imagery. However, it is a gripping crime thriller that will keep you on the edge of your seat. If you're a fan of Liam Neeson's action movies, you'll definitely enjoy this more nuanced and dramatic performance.
A Walk Among the Tombstones is a 2014 crime movie with a runtime of 1 hour and 54 minutes. It has received moderate reviews from critics and viewers, who have given it an IMDb score of 6.5 and a MetaScore of 57.