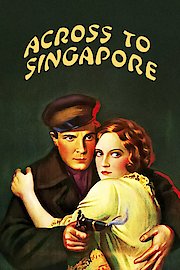 Watch Across to Singapore
"A boy and a girl---alone against a ship full of mutineers. High adventure on the high seas, with the great star of romance leading the way."
NR
1928
1 hr 25 min
Academy Award winner Joan Crawford stars as the beautiful woman loved by two brothers--one good, the other evil--when the three are caught in a shipboard mutiny during a passage Across to Singapore. Deckhand Joel Shore (Ramon Novarro) and Priscilla Crowninshield (Joan Crawford) have been in love since they were children, but Joel's cruel brother, ship's captain Mark (Ernest Torrence), tricks Priscilla into an unhappy marriage with him. As the three make the passage to Singapore, Mark's crew mutinies and takes Priscilla hostage. Now, one of the two brothers is going to have to sacrifice his life for the woman they both love.