Watch Alexander
"The greatest legend of all was real."
The movie Alexander is a film that is based on the life of Alexander the Great. The film stars many famous Hollywood actors including Colin Farrell, Angelina Jolie, Val Kilmer, and Anthony Hopkins. Alexander the Great was a legendary king of Macedon. During his rule he conquered the lands of Asia, Egypt, Persia, and India. The film beings when Alexander is young. His father is the king of this land. He does not have a happy or peaceful childhood. His parents are having marital trouble, and Alexander and his mother live on their own. He is tutored by Aristotle, where he learns philosophy as well as military combat. His father marries his aunt, completely destroying their relationship.
The king is assassinated making Alexander the new ruler. During the movie, some of the battles that he is famous for are shown. This includes his most famous battle, the Battle of Gaugamela. This battle is his attempt to take over Asia. The movie also shows his private life. When Alexander married, it put a stain on his relationship with his best friend.
The Battle of Hydaspes is shown in detail in this movie. This was his final battle and also the most violent. Alexander himself is injured during this fight. He survives, but he loses his friend due to illness. Alexander goes into a depression from this and secludes himself from his wife and their child. A couple of months later, he dies, leaving his land to be ruled by a new king. Alexander is said to be one of the most powerful and greatest kings that have ever come to power. This movie shows his successes as a king and his short comings as a man.
|
2004
|
2 hr 55 min
|

/

10
Cast

Studio

Director

Oliver Stone

Language

English
Alexander News
Rosario Dawson's (Kind Of) Unlikely Romance
August 05, 2012 @ 4:51 pm PST
|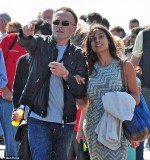 Rosario Dawson is being linked to a much older director. Who has she been seen locking face with all around Brighton Beach this weekend?
Read More

'Gossip Girl' Defection: Conor Paolo Gone
August 08, 2011 @ 1:59 pm PST
|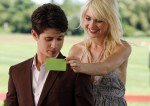 Connor Paolo, who plays Blake Lively's little brother, Eric Van Der Woodsen on "Gossip Girl," will be leaving the show, the actor told television critics recently. Paolo has a new part in the new ABC thriller "Revenge" and apparently doesn't think he'll be able to juggle the two competing roles. "Gossip Girl" has seen several high-profile defections over the run of the show, including recent departures by Taylor Momsen and Jessica Szohr.
Read More


Watch Alexander Trailer

Alexander (Theatrical Cut)
|
1:47
Alexander (2004) Official Trailer - Colin Farell, Angelina Jolie Epic Movie HD
|
1:43
Watch Alexander Online - Watch online anytime anywhere: Stream, Download, Buy, Rent
Alexander is currently available to watch free on Vudu Free and stream, download, buy, rent on demand at Vudu, Google Play, FandangoNow, YouTube VOD, iTunes online.