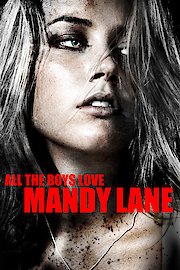 Watch All the Boys Love Mandy Lane
"Everyone is dying to be with her. Someone is killing for it."
R
2006
1 hr 30 min
44
All the Boys Love Mandy Lane is a horror movie. The main character in the movie is a girl named Mandy Lane. Mandy Lane is an unpopular, and an outsider. The setting of the movie is Texas. Mandy get invited to a party by boy she goes to school with named Dylan. Mandy's best friend is named Emmet. Mandy says she will only go to Dylan's party if Emmet can go, too. Emmet, and Dylan do not get along at the party. Emmet goes to sit on the roof at the Party. Dylan decides to join Emmet on the roof. Emmet convinces Dylan to jump from the roof to the pool to get Mandy's attention. Dylan misses the pool, and hits his head on the side of the pool. Dylan dies from the fall. Mandy does not speak to Emmet any more after Dylan dies. Months later Mandy is asked to a party again. Emmet is not invited to the party. He sneaks into the house, and starts to kill people.