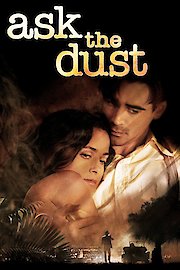 Watch Ask the Dust
"Passion and ambition drive two dreamers in 1930s LA. Their love affair is ferocious and hot-blooded as they fight the city and themselves to make their dreams come true."
R
2006
1 hr 57 min
58
Set in the 1930s, Ask the Dust is a romantic drama directed by Robert Towne and starring Colin Farrell, Salma Hayek, and Donald Sutherland. The movie is based on John Fante's novel of the same name, and it tells the story of Arturo Bandini, an aspiring writer who moves from Colorado to Los Angeles to make it big. Upon his arrival in LA, Arturo struggles to find success as a freelancer, but he still maintains a pretentious attitude and a disdainful outlook towards his surroundings. Despite his snobbishness, Arturo finds himself drawn to Camilla Lopez, a fiery and independent Mexican waitress who works at a local diner.
As Arturo and Camilla start to spend more time together, they find themselves falling in love, but their relationship is complicated by their cultural and social differences. Arturo is a white man, and Camilla is a Mexican immigrant, which in the 1930s meant that their relationship was frowned upon by most of society.
Throughout the movie, Arturo and Camilla navigate their relationship, dealing with the ups and downs that come with falling in love. Arturo faces his own personal demons, including a drinking problem and an uneasy relationship with his father, while Camilla tries to find her own way in a world that's not always kind to her.
The movie is set against the backdrop of the Great Depression, and it's clear that the characters are struggling to make ends meet. Arturo bounces from job to job, while Camilla works hard every day to support herself and her family. The economic uncertainty of the time adds an extra layer of tension and drama to the story.
One of the standout aspects of the movie is the performances by Farrell and Hayek. Farrell brings a brooding intensity to the character of Arturo, perfectly capturing his arrogance and vulnerability. Hayek, meanwhile, is luminous as Camilla, imbuing her with a fierce determination and depth of emotion. The chemistry between the two actors is palpable, making their love story all the more poignant.
Sutherland also delivers a strong performance as Hellfrick, a successful writer who takes Arturo under his wing. Sutherland plays Hellfrick as both charming and manipulative, making the character a memorable presence in the movie.
The movie is also visually stunning, with beautiful cinematography that captures the dusty, sun-drenched landscape of 1930s Los Angeles. The period details are meticulously recreated, transporting the viewer to a bygone era.
Overall, Ask the Dust is a beautifully crafted, emotionally resonant movie that explores themes of love, class, and identity. Farrell and Hayek deliver powerhouse performances, bringing to life two characters who are struggling to find their place in the world. The movie is a must-watch for fans of the book, as well as anyone who appreciates a well-crafted, thoughtful drama.
Ask the Dust is a 2006 romance movie with a runtime of 1 hour and 57 minutes. It has received moderate reviews from critics and viewers, who have given it an IMDb score of 5.7 and a MetaScore of 58.