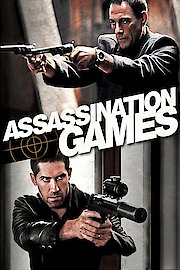 Watch Assassination Games
"Twice the fire... double the power!"
R
2011
1 hr 41 min
Assassination Games is an action-packed movie from 2011 that centers around two elite assassins, Roland Flint (played by Jean-Claude Van Damme) and Vincent Brazil (played by Scott Adkins), who are both after the same target. Roland Flint is a veteran assassin who has become disillusioned with his profession and is only interested in getting out of the business. Vincent Brazil, on the other hand, is a younger, up-and-coming assassin who is obsessed with becoming the number one killer in the world. Despite their vastly different approaches to their work and their conflicting motivations, the two men are brought together when they both receive a contract to kill a powerful underworld figure known as Polo Yakur (played by Ivan Kaye).
As the movie progresses, the two assassins find themselves in a deadly game of cat and mouse as they try to outsmart each other and eliminate their target. But as they get closer to Polo Yakur, they realize that there is more to this assignment than they initially thought. The plot thickens with multiple twists and turns, and the two assassins must navigate a dangerous world of corrupt law enforcement, drug cartels, and powerful criminals if they want to succeed in their mission.
One of the key themes of the movie is the ethical dilemma of the assassin's job. Both Roland and Vincent are skilled killers who have taken numerous lives over the years, and they must grapple with the morality of what they do. While Vincent is completely ruthless and enjoys the thrill of the kill, Roland is haunted by his past and feels a deep sense of regret for the lives he has taken. This conflict between the two characters adds depth to the movie and gives it a more nuanced perspective on violence and its consequences.
Another standout feature of Assassination Games is its intense action sequences. Both Van Damme and Adkins are known for their martial arts skills, and they get to show off their prowess in several fight scenes throughout the movie. The fights are expertly choreographed and showcase a variety of different styles, from hand-to-hand combat to gunplay. The movie also has a high body count, so fans of bloody shootouts and explosions will not be disappointed.
One of the strengths of the movie is its pacing. The plot moves quickly and keeps the audience engaged throughout. The dialogue is sharp and filled with witty one-liners, and there is just enough exposition to give the necessary context for the story without bogging it down. The movie also benefits from its exotic setting, as it takes place in the seedy underbelly of Eastern Europe. The gritty, urban landscape adds to the tension and adds an air of danger to the proceedings.
Overall, Assassination Games is a solid entry in the action movie genre. It features two charismatic leads, thrilling action sequences, and a well-crafted plot that keeps the audience on the edge of their seats. While it may not reinvent the wheel, it delivers exactly what fans of the genre are looking for: visceral thrills, intense fight scenes, and a healthy dose of adrenaline-fueled entertainment.
In conclusion, Assassination Games is a movie that will not disappoint fans of the action movie genre. With its two charismatic leads, well-crafted plot, and intense action sequences, it delivers exactly what it promises: a thrilling ride from start to finish. Whether you're a fan of Jean-Claude Van Damme or Scott Adkins, or just looking for a fun action movie to watch on a lazy Sunday afternoon, this movie should be on your radar.
Assassination Games is a 2011 action movie with a runtime of 1 hour and 41 minutes. It has received moderate reviews from critics and viewers, who have given it an IMDb score of 6.1.