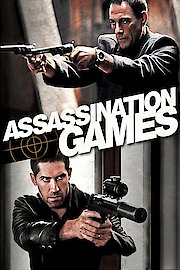 Watch Assassination Games
"Twice the fire... double the power!"
R
2011
1 hr 41 min
The movie titled The Assassination Games features action movie star Jean-Claude Van Damme as an assassin named Vincent Brazil and Scott Adkins as an assassin named Roland Flint. The movie starts out showing Vincent Brazil performing a skilled assassination and killing a man in crowd and proceeding to kill anyone in his way during his escape. Vincent is an assassin who will perform any job that has a good enough price. Soon it cuts to Roland Flint who is seen with his comatose wife. Roland was a former assassin but gave it up after his wife was put into a coma by a ruthless drug dealer. Flint finds out that the man who's responsible for beating his wife into a coma is being released from prison and that there's a price on the drug dealer's head. Flint believes that the drug dealer will come after him and his wife so wants to kill him first. Brazil is paid for his kill featured in the opening scene and is given another job offering double his usual reward to kill the drug dealer who was just released from prison. Flint and Brazil end up attempting to kill the drug dealer and at the same time thwart each other's attempt and must both flee. Brazil and Flint later encounter each other and agree to help each other to kill their mutual target. Flint and Brazil track targets and use their respective resources to help find the mobster. Brazil is slowly changing from his money driven heartless ways as he befriends a woman and after betraying Flint to the dirty cops after him, he decides instead to save him. Brazil redeems himself and Brazil and Flint are able to take the fight to all of the people targeting them in an attempt to solve their problems. Brazil wants the money and Flint wants vengeance against the mobster. Crooked cops and even Brazil's contractor are after both Flint and Brazil and team up with the mobsters to take them down. The movie features many action sequences as well as a back story for each character, giving them more depth.