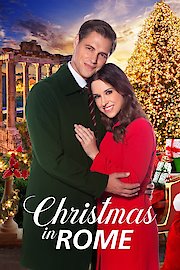 Watch Christmas in Rome
TV-G
2019
1 hr 26 min
Christmas in Rome is a heart-warming, romantic comedy released in 2019, directed by Ernie Barbarash. Starring the ever-charming Lacey Chabert and Sam Page in the lead roles as Angela and Oliver, respectively, the movie captures the perfect essence of Christmas in Rome. The movie revolves around Angela, a young American woman, who is a tour guide in Rome. Angela is passionate about her work and takes pride in showing tourists around the beautiful city of Rome. However, her world comes crashing down when her boss informs her that his tour agency is going out of business due to financial issues. With Christmas just around the corner, Angela is worried about what the future holds for her and her job.
In the meantime, Oliver, a successful American businessman, has flown to Rome to finalize an important deal. He is in the city for only a few days and wants to make the most of his time. However, he is unaware that his translator has left him in a fix by not showing up for the meeting. Left with no other choice, Oliver seeks Angela's help to translate for him to get the deal done in time.
As the two of them spend time together, they start to discover the beautiful city of Rome in each other's company. Oliver is smitten by Angela's beautiful smile and her vast knowledge of Rome's history and culture. Angela, on the other hand, is captivated by Oliver's charming personality and his kindness towards her.
The movie highlights the cultural differences between Americans and Italians and how two people from different backgrounds can come together and fall in love. Angela and Oliver's chemistry is delightful to watch, and their romantic moments are sure to melt your heart. One of the most beautiful scenes in the movie has to be the iconic Trevi Fountain depicting an intimate moment between Angela and Oliver.
Another element that adds to the movie's charm is the breathtakingly beautiful backdrop of Rome. The film takes you on a journey through some of Rome's most iconic landmarks, such as the Colosseum, the Pantheon, and the Spanish Steps. The city's beauty is showcased to its fullest, and it's impossible not to get swept away by its romantic charm.
Franco Nero's cameo as a street performer is an enjoyable addition to the movie. Nero, a veteran Italian actor, adds a distinct charm to the film with his brief role.
One aspect of the movie that stands out is the importance of celebrating Christmas the Italian way. The audience is introduced to the Italian tradition of the Feast of the Seven Fishes, where families celebrate Christmas by preparing a feast of seven different seafood dishes. This tradition plays a crucial role in bringing Angela and Oliver together, and it's a beautiful motive behind the movie's title.
Overall, Christmas in Rome is a delightful feel-good movie that captures the essence of the holiday season perfectly. With its beautiful backdrop, charming performances, and an endearing love story, it's a perfect movie to watch with loved ones during the holiday season.
Christmas in Rome is a 2019 tv movie with a runtime of 1 hour and 26 minutes. It has received mostly positive reviews from critics and viewers, who have given it an IMDb score of 6.7.