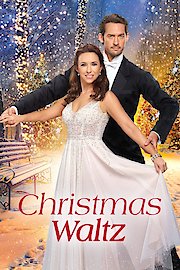 Watch Christmas Waltz
TV-G
2020
1 hr 24 min
Christmas Waltz is a romantic drama movie released in 2020. The movie is directed by Michael Damian and starring Lacey Chabert, Will Kemp, and Katrina Reynolds in pivotal roles. The movie centers around a woman named Avery (played by Lacey Chabert) whose dreams of opening a dance studio are shattered when her fiancé leaves her at the altar. Amidst her heartbreak, Avery receives a series of letters and gifts from her deceased mother, urging her to take a chance on love and to dance whenever she gets the chance.
Avery is hesitant to move on from her failed relationship, but with a little push from her mother's letters, she decides to give love another chance. Enter Roman (played by Will Kemp), a professional ballroom dancer who becomes Avery's partner in a dance competition after her original partner injures himself. As Avery gets to know Roman, she discovers that he is not just a skilled dancer, but a kind-hearted and caring person who might just be the man she needs to help her heal and move on from her past.
As Avery and Roman practice for the competition, they start to develop a close bond. The duo starts to see eye-to-eye on the dance floor, and soon, Roman is helping Avery see the bigger picture in life. He helps her realize how important it is to take chances and to follow your dreams. With Roman's help, Avery starts to see the world in a different light, and her confidence begins to grow.
As the competition approaches, Avery and Roman face several challenges, both on and off the dance floor. Avery is hesitant to let go of her past and start a new relationship, but Roman helps her see that love is worth taking a risk for. They learn to trust each other, and in the end, their dance routine is nothing short of perfection.
The Christmas Waltz is a heartwarming story of love, hope, and taking a chance on the unknown. Lacey Chabert delivers a splendid performance as Avery, bringing depth and nuance to the character. Her portrayal of Avery's struggles with heartbreak and her eventual triumph is both poignant and realistic. Will Kemp is equally impressive as Roman, bringing grace, charm, and depth to the character. The chemistry between the two actors is palpable, making their on-screen relationship believable and captivating.
The movie features stunning dance routines, set against the backdrop of an enchanting winter wonderland. The dance scenes are shot beautifully, and the costumes add an element of magic to the overall look and feel of the movie. The movie's soundtrack is equally impressive, featuring classic Christmas carols as well as original songs that add depth to the story.
Overall, The Christmas Waltz is an excellent movie that captures the spirit of the season. It's a story of rediscovering love, following your dreams, and taking a chance on life. It's an uplifting and heartwarming film that will leave viewers feeling warm and fuzzy inside. It's the perfect movie to watch with family and friends during the holiday season.
Christmas Waltz is a 2020 tv movie with a runtime of 1 hour and 24 minutes. It has received mostly positive reviews from critics and viewers, who have given it an IMDb score of 6.9.