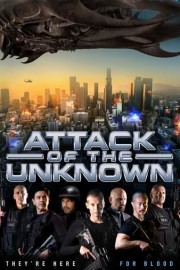 Watch Attack of the Unknown
NR
2020
1 hr 43 min
In "Attack of the Unknown," a team of special forces soldiers are tasked with escorting a high-profile prisoner, who happens to be a dangerous biological weapon, to a secure facility. However, things go awry when a group of heavily armed mercenaries, led by the ruthless Carlos Garcia (played by Richard Grieco), hijack their transport and take them all hostage.
The movie wastes no time diving into the action, as the team's transport is ambushed within the first few minutes of the film. From there, it's a non-stop thrill ride as the soldiers attempt to fight off the attackers and protect their precious cargo. The mercenaries, meanwhile, have their own agenda, and things only get more complicated when they come face-to-face with the mutated human-monster hybrids that inhabit the facility.
The film is heavy on the action, with plenty of gunfights, explosions, and hand-to-hand combat. But it also manages to sneak in some character development, particularly for the soldiers played by Jolene Andersen and Robert Donavan. We learn about their pasts and motivations, which helps lend some emotional weight to the otherwise over-the-top proceedings.
Richard Grieco is a standout as the villainous Carlos Garcia, bringing a level of gravitas to the role that helps make him more than just a one-dimensional bad guy. He's ruthless and cunning, yet he also has a code of honor that he sticks to, making him a more complex antagonist than one might expect from a movie like this.
The creature effects are also impressive, with the mutated monsters looking suitably grotesque and frightening. There's a sense of dread that permeates the facility as the soldiers and mercenaries alike are forced to confront these monstrous creatures.
Overall, "Attack of the Unknown" is a solid action-horror movie that delivers on its promise of thrills and chills. It's not going to win any awards for originality, but it's a well-executed genre film that should satisfy anyone looking for a good old-fashioned shoot-em-up with some monster mayhem thrown in for good measure.
One notable aspect of the movie is its use of practical effects. Rather than relying entirely on CGI, the filmmakers opt for a more old-school approach, using makeup and practical effects to bring the monsters to life. This gives the film a tangible, tactile quality that's often missing in modern action movies.
The film also benefits from its tight pacing, never letting up on the action for too long. There are a few quieter moments for character development, but for the most part, it's a relentless assault of gunfire and monsters. This makes it a perfect movie for genre fans who just want to sit back, relax, and watch some badass soldiers take on some equally badass monsters.
All in all, "Attack of the Unknown" is a fun, action-packed romp that should please anyone looking for a little escapism. It's not going to reinvent the wheel, but it's a well-made genre movie with some impressive practical effects and a solid cast. Fans of action-horror movies should definitely give it a watch.
Attack of the Unknown is a 2020 action movie with a runtime of 1 hour and 43 minutes. It has received mostly poor reviews from critics and viewers, who have given it an IMDb score of 3.2.