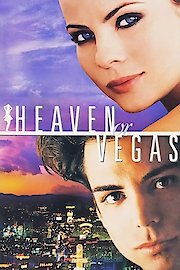 Watch Heaven or Vegas
R
1999
1 hr 45 min
Heaven or Vegas is a 1998 romantic drama film directed by Gregory C. Haynes and starring Richard Grieco and Yasmine Bleeth. The film tells the story of two people from vastly different backgrounds who fall in love in Las Vegas and must decide whether to pursue their relationship or go their separate ways. The film begins with Rachel (Bleeth), a successful lawyer from Los Angeles who is in Las Vegas on a business trip with her fiancé. Despite being engaged, Rachel is unhappy and feels unfulfilled in her life. One night, she meets a charming and handsome stranger named Mike (Grieco) at a casino, and they quickly hit it off.
Mike is a hard-working construction worker from Wyoming, who is in Vegas to blow off some steam and have a good time with his buddies before heading back home. Despite their different backgrounds, Mike and Rachel are drawn to each other's company and begin a whirlwind romance during their time in Vegas.
As their trip comes to an end, Rachel and Mike must decide what to do about their budding relationship. Rachel is torn between her duties as a successful lawyer and her newfound feelings for Mike, while Mike worries that he might not be good enough for Rachel because of his working-class background.
Throughout the film, Rachel and Mike must navigate their differences and overcome the challenges that come with falling in love so quickly. As they struggle to come to a decision about their future, they also have to deal with outside influences, including Rachel's disapproving fiancé and Mike's reluctance to leave his old life behind.
Heaven or Vegas is a love story that explores the themes of self-discovery, class differences, and the power of true love. The film features strong performances by both Grieco and Bleeth, who have great chemistry on screen. The supporting cast, including Andy Romano as Mike's father, also does a great job of adding depth and nuance to the film.
The film also benefits from the stunning backdrop of Las Vegas, which serves as a beautiful and vibrant setting for Rachel and Mike's love story. Director Gregory C. Haynes makes good use of the city's various locations, from the glitz and glamour of the casinos to the desolate beauty of the surrounding desert.
Overall, Heaven or Vegas is a well-made romantic drama that offers an engaging and heartfelt story about two people from different worlds who find love in the most unexpected place. Whether you're a fan of romantic movies or not, this film is definitely worth watching for its strong performances, beautiful setting, and touching story.
Heaven or Vegas is a 1999 drama with a runtime of 1 hour and 45 minutes. It has received mostly poor reviews from critics and viewers, who have given it an IMDb score of 4.5.