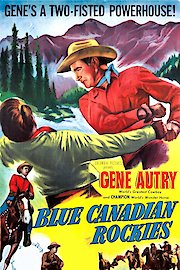 Watch Blue Canadian Rockies
"TIMBER! The bigger they come the harder they fall...as Gene and Champ crash through a maze of murder and mayhem on a dude ranch deep in the heart of tall timber country!"
Passed
1952
58 min
Blue Canadian Rockies is a 1952 Western musical film that stars the iconic Gene Autry as a singing cowboy, Champion the Wonder Horse as his trusty steed, and Gail Davis as his love interest. Set against the stunning backdrop of the Canadian Rockies, this movie follows Autry as he navigates his way through treacherous terrain and dangerous encounters while trying to save a young woman's ranch from being taken over by a conniving businessman. The film's opening sequence sets the tone for what's to come, as Autry and his horse Champion are seen riding through the breathtaking landscapes of the Canadian Rockies, with Autry singing the film's titular song. As they arrive at a small town, they learn about a young woman named Sally Baxter (played by Gail Davis) who is struggling to save her ranch from being bought out by the wealthy businessman J. B. Allenby (played by Harry Shannon). Sensing that something fishy is going on, Autry offers to help Sally by investigating the situation further. As Autry dig deeper into the matter, he discovers that Allenby is planning to buy up all the land in the valley to build a hydroelectric dam, which would flood Sally's ranch and others in the area. With the help of his trusted horse Champion and a cast of colorful characters, Autry sets out to thwart Allenby's plans and save the day. Throughout the film, Autry sings a number of catchy tunes, including the aforementioned "Blue Canadian Rockies", "I'm Gonna Round Up My Blues", and "The Mountains of the Canadian Rockies". He also engages in some thrilling fistfights and horseback chases, showcasing his impressive athleticism and skill as a cowboy. Meanwhile, Gail Davis shines as the plucky Sally, who refuses to let her ranch be taken away without a fight. One of the film's standout scenes involves Autry and Champion getting caught in a dangerous snowstorm while trying to deliver supplies to a group of stranded miners. The suspenseful sequence is expertly filmed, with the snow and wind adding an extra layer of intensity to the already harrowing situation. Another memorable moment comes when Autry performs a rousing rendition of "I'm Gonna Round Up My Blues" while riding his horse through the countryside, jumping over fences and dodging obstacles with ease. Overall, Blue Canadian Rockies is a classic Western musical that showcases Gene Autry's talents as both a cowboy and a singer. The breathtaking scenery and exciting action sequences are sure to keep audiences entertained, while the upbeat musical numbers are guaranteed to have viewers tapping their toes. With its timeless story and unforgettable characters, this film is a must-see for anyone who loves Westerns or classic Hollywood musicals.