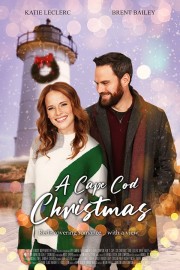 Watch Cape Cod Christmas
Featuring an all-star cast in a delightful romantic comedy, Cape Cod Christmas is a heartwarming holiday movie that takes viewers on a journey of love, healing, and forgiveness. The story begins with Michael (Brent Bailey), a big-shot advertising executive, who is unexpectedly fired from his job just before Christmas. Feeling lost and alone, he decides to spend the holiday season alone in his family's beach house on Cape Cod. However, when he arrives, Michael discovers that the house has been rented to a lovely young woman named Lily (Katie Leclerc). Although they start off on the wrong foot, Michael and Lily soon make a deal to share the house for the holidays.
As they spend more time together, Michael and Lily begin to develop feelings for each other. But their burgeoning romance is complicated by the arrival of Michael's ex-fiancée, Julia (Cindy Lentol), who shows up unannounced with hopes of winning Michael back. Tensions rise as Julia tries to drive a wedge between Michael and Lily, but the two are determined to make their relationship work.
As the holiday season progresses, Michael and Lily learn to open up to each other and confront the emotional baggage that has been holding them back. With the help of the charming Cape Cod community, they find the courage to follow their hearts and make peace with their pasts.
Filled with festive decorations, picturesque landscapes, and Christmas cheer, Cape Cod Christmas is a charming holiday movie that will warm the hearts of viewers young and old. The chemistry between the three leads is palpable, and their performances convey a genuine sense of emotional depth and vulnerability. The film's message of hope, forgiveness, and second chances is sure to resonate with audiences and leave them feeling uplifted.
Overall, Cape Cod Christmas is a must-watch for anyone who loves a good holiday movie. It's a delightful romance that captures the magic of the season and will leave viewers feeling inspired and hopeful. With its engaging characters, enchanting setting, and heartwarming story, this movie is a perfect addition to any holiday watchlist.
Cape Cod Christmas is a 2021 comedy with a runtime of 2 hours. It has received moderate reviews from critics and viewers, who have given it an IMDb score of 5.9.