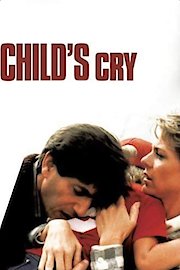 Watch Child's Cry
PG-13
1986
1 hr 40 min
Child's Cry is a 1986 drama film directed by Michael Ray Rhodes and starring Lindsay Wagner, Peter Coyote, and Taliesin Jaffe. It tells the story of Meg, a loving mother who is thrust into a nightmare when her son is kidnapped. The film takes place in a small town in the Pacific Northwest, where Meg, her husband Adrian, and their young son Scott have just moved in. They seem to be settling into their new home just fine, until one day when Meg goes to pick up Scott from school, only to find that he is nowhere to be found. Panic sets in as Meg realizes that her son has been kidnapped.
As the investigation begins, Meg is forced to confront her worst fears and come to terms with the fact that her son may never come back. Desperate for answers, she turns to Adrian, a journalist, to help her in her search. Together, they navigate the twists and turns of the investigation, hoping to find Scott before it's too late.
Throughout the film, the audience is taken on an emotional rollercoaster as they follow Meg's journey. Lindsay Wagner's performance as Meg is simply outstanding - she perfectly captures the fear, desperation, and hopelessness of a mother who has lost her child. Peter Coyote also delivers a solid performance as Adrian, a man who is willing to do anything to help Meg find her son.
The film explores themes of loss, grief, and the lengths that a mother will go to protect her child. It also touches on the idea that even in the darkest of moments, there is always hope. While the subject matter is undoubtedly heavy and at times difficult to watch, the film does an excellent job of keeping the audience engaged and invested in the characters' journeys.
One of the standout features of Child's Cry is the way in which it handles the investigation into Scott's kidnapping. Instead of relying on cliched police procedural tropes, the film takes a more subtle approach, focusing on Meg and Adrian's search for answers. This allows for a more intimate and emotionally charged narrative that keeps the audience engaged from start to finish.
Overall, Child's Cry is a compelling and emotionally charged drama that will keep you on the edge of your seat. The performances from the lead actors are outstanding, and the themes explored in the film are both thought-provoking and heart-wrenching. If you're a fan of dramas that pack an emotional punch, then Child's Cry is definitely worth checking out.