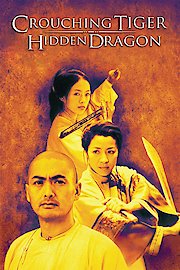 Watch Crouching Tiger, Hidden Dragon
"A timeless story of strength, secrets and two warriors who would never surrender."
PG13
2000
2 hr
94
Crouching Tiger, Hidden Dragon is a Chinese martial arts movie from 2000 that takes viewers on an epic journey through ancient China. The film was directed by Ang Lee and starred Chow Yun-Fat, Michelle Yeoh, and Ziyi Zhang. The story is based on the novel of the same name by Wang Dulu. Set in the Qing Dynasty, Crouching Tiger, Hidden Dragon tells the story of Li Mu Bai (Chow Yun-Fat), a legendary warrior who decides to retire and turn over his powerful sword to a local governor. However, the sword is stolen, and Li Mu Bai must reclaim it from the thief. With the help of his friend and fellow warrior, Yu Shu Lien (Michelle Yeoh), Li Mu Bai sets out on a quest to recover the sword. As the story progresses, the focus shifts to a young woman named Jen (Ziyi Zhang), who comes from a wealthy family but longs for adventure and independence. Despite her privileged upbringing, Jen is conflicted and restless. She meets Lo (Chang Chen), a skilled thief who steals her heart, and their relationship creates complications that affect the wider story. The film is visually stunning, with beautiful landscapes and dynamic fight scenes that showcase the characters' incredible martial arts skills. The fight scenes in particular are choreographed with precision and grace, making them mesmerizing to watch. One of the reasons Crouching Tiger, Hidden Dragon stands out is its balance between action and emotional depth. The characters are complex and fully realized, with their own motives and desires. The relationship between Li Mu Bai and Yu Shu Lien is particularly compelling, as they share a deep bond that is hinted at but never fully explored. At its core, Crouching Tiger, Hidden Dragon is a story about love, honor, and the pursuit of freedom. The film explores themes of duty and obligation, as well as the consequences of one's choices. Jen's journey in particular is a testament to the power of choice and the struggle to find one's place in the world. The performances in the film are outstanding, with Chow Yun-Fat, Michelle Yeoh, and Ziyi Zhang delivering nuanced and powerful performances that bring their characters to life. The film also features a strong supporting cast, including Chang Chen, Cheng Pei-Pei, and Sihung Lung. Overall, Crouching Tiger, Hidden Dragon is a masterful work of cinema that blends action, drama, and romance into a compelling story. It is a testament to the power of storytelling and the enduring popularity of martial arts films. The film was a critical and commercial success, winning four Academy Awards and becoming the highest grossing foreign-language film in US box office history at the time. It remains a beloved classic to this day.