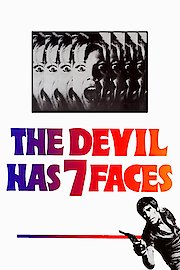 Watch Devil Has 7 Faces
"A Sexy Chick Who Loves 'em and Leaves 'em... DEAD!"
NR
1977
1 hr 31 min
Devil Has 7 Faces is a gripping Italian-Spanish thriller that was released in 1971. The film, which was directed by Osvaldo Civirani, stars Carroll Baker, George Hilton, and Stephen Boyd in the lead roles. The plot of the movie revolves around a wealthy woman named Norma Bengell (played by Baker), who lives in a castle with her wheelchair-bound husband (played by Boyd). One night, while her husband is away, Norma is attacked by a masked intruder who attempts to rape her. She manages to escape and flees to the nearby village, where she takes shelter in the home of a journalist named Mario (played by Hilton).
As the story unfolds, Norma becomes convinced that her attacker was her own estranged son, who she believes is trying to kill her in order to inherit her fortune. However, as more people around her start turning up dead, Norma realizes that there may be multiple killers at work, each with their own motives and agendas.
As the tension and paranoia escalate, Norma finds herself caught in a web of deceit and betrayal, with no one to trust and nowhere to turn. The only way to survive is to uncover the truth behind the murders and unmask the Devil with Seven Faces.
The movie is a dark and suspenseful thriller, with a solid cast and a gripping storyline. The performances by the lead actors are all top-notch, with Carroll Baker delivering a particularly memorable performance as the traumatized and desperate Norma. The film also boasts beautiful cinematography and an eerie score that helps create a sense of foreboding throughout.
While the movie does have some predictable plot twists and a few slow moments, overall it is a well-executed and engrossing thriller that will keep you on the edge of your seat. If you're a fan of classic suspense movies or Italian giallo thrillers, Devil Has 7 Faces is definitely worth checking out.
In conclusion, Devil Has 7 Faces is a well-crafted and entertaining thriller that is sure to keep audiences guessing until the very end. With solid performances, stylish direction, and a gripping plot, it's a must-see for fans of the genre.