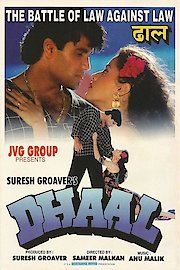 Watch Dhaal
"The Battle of Law Against Law"
NR
2012
2 hr 28 min
Dhaal is a 1997 Indian action thriller directed by Sameer Malkan and stars Vinod Khanna, Suniel Shetty, and Gautami in lead roles. The film primarily revolves around the theme of political corruption in the Indian system, and how it can lead to dangerous consequences. The story of Dhaal is set in Mumbai, where a notorious gangster named Anna (Vinod Khanna) rules over the underworld with his iron fist. The city is plagued by his goons and the police are finding it hard to keep up with their criminal activities. In such a scenario, a young and fiery IPS officer Arjun Ranawat (Suniel Shetty) is appointed to quell the rising lawlessness in the city.
Arjun, who is known for his no-nonsense approach, immediately gets to work and starts cracking down on Anna's gang. However, things take a turn for the worse when Anna's wife (Gautami) is kidnapped by Arjun as a part of his plan to trap Anna. This provokes Anna, who then sets out to seek revenge against Arjun.
As the story progresses, the audience gets to witness a thrilling game of cat and mouse between Anna and Arjun. Both are warriors in their own right, and the battle between them is intense and gripping. The film also touches upon issues like police corruption, political interference, and the impact of gangsterism on the common man.
One of the major highlights of Dhaal is the performances of the lead actors. Vinod Khanna, who is known for his intensity on screen, is superb in his portrayal of Anna. He exudes power and menace in every frame he appears in, and his dialogues are chillingly effective. Suniel Shetty, on the other hand, is in top form as the tough cop Arjun. He brings a certain vulnerability to the character, which makes him all the more endearing.
Gautami, who plays Anna's wife, also delivers a commendable performance. Her character goes through a rollercoaster of emotions throughout the film, and Gautami handles it with ease. Other supporting actors like Danny Denzongpa, Rahul Roy, and Amrish Puri also add weight to the film with their convincing performances.
The action sequences in Dhaal are another noteworthy aspect of the film. They are raw, gritty, and well-choreographed. The film also has some catchy songs like 'Oye Oye Teri Si Ladki' and 'Saat Rang Ke Sapne', which add to its entertainment value.
Overall, Dhaal is a well-made action thriller that keeps the audience engaged throughout its runtime. It has all the ingredients of a typical 90s Bollywood film - high-octane action, strong performances, and catchy music. However, what sets it apart is its commentary on social issues, which makes it a relevant film even today.
In conclusion, Dhaal is a must-watch for fans of action films and anyone who enjoys a good cop-vs-gangster drama. It may not be the most original film out there, but it definitely delivers on its promises.