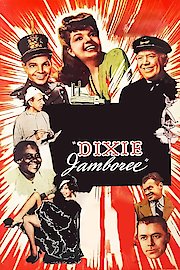 Watch Dixie Jamboree
"Way down south in the land of jamboree!"
Approved
1944
1 hr 12 min
Dixie Jamboree is a 1944 musical comedy film directed by Christy Cabanne and starring Frances Langford, Guy Kibbee, and Eddie Quillan. The story takes place in a small town in the South where the town is divided into two rival factions, the Hatfields and the McCoys. These two families have been at each other's throats for years, and now they're competing to see who can stage the best musical show. The winner will receive a big cash prize and bragging rights until the next rivalry contest.
Frances Langford plays Judy Martin, a beautiful and talented singer who comes to town to work for the Hatfields' show. Unfortunately, she learns that the McCoys have stolen all of their music and plans, so the Hatfields have nothing to perform. When the Hatfields' leader, Cactus Joe (Eddie Quillan), hears about this, he decides to ask the McCoys for their help, which they refuse.
In the meantime, Judy has caught the eye of both Cactus Joe and the McCoy's leader, Davy McCoy (Phil Regan). Davy tries to persuade her to come to work for his show, but she refuses, insisting on staying with the Hatfields. This causes a rift between her and Cactus Joe, who thinks she has betrayed him by considering working for the enemy.
The movie features a number of musical performances, including Langford's renditions of "In the Sweet Bye and Bye" and "Swanee River" as well as comedy duos by the likes of Guy Kibbee and Una Merkel. The quintessential sounds of bluegrass and country music take center stage in the film, creating a true Dixie atmosphere.
The two factions eventually put their differences aside and come together to stage a joint show, with several songs and dance routines that feature both groups of performers. The show brings the whole town together, and the underlying message of the movie is the possibility for unity and cooperation despite pre-existing conflicts.
Dixie Jamboree features good chemistry between its lead actors, Frances Langford, Eddie Quillan, and Guy Kibbee, who deliver solid performances. The movie delves into themes of rivalry and conflict, but its upbeat musical numbers and lively humor ease the tension, providing a lighthearted and entertaining experience.
In summary, Dixie Jamboree is a delightful and enjoyable musical comedy that warms the heart with its depiction of the power of music and unity, and showcases bluegrass and country music at their finest.
Dixie Jamboree is a 1944 music movie with a runtime of 1 hour and 12 minutes. It has received mostly poor reviews from critics and viewers, who have given it an IMDb score of 4.5.