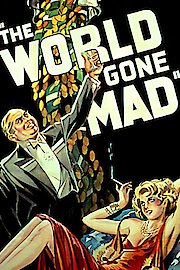 Watch The World Gone Mad
Passed
1933
1 hr 20 min
The World Gone Mad is a classic crime drama from 1933, directed by Christy Cabanne and starring Pat O'Brien, Evelyn Brent, and Neil Hamilton. The film plot centers around a corrupt police department and the efforts of a newspaper publisher to expose their illegal activities. The story is set in an unnamed city, where a murder is committed, and a valuable diamond is stolen from the victim's body. The police detectives assigned to the case are corrupt and have links to the criminal underworld. They attempt to cover up the murder so as not to damage their corrupt dealings with the crime bosses.
John Francis O'Hara (Pat O'Brien) is the publisher of the local newspaper, and he becomes interested in the case when he realizes the police are not investigating it thoroughly. He decides to take matters into his own hands and launches his own investigation. O'Hara soon discovers the extent of the police department's corruption and establishes a connection with the diamond thieves.
Meanwhile, the lovely Rita Carlyle (Evelyn Brent), a nightclub singer and the girlfriend of one of the police detectives, becomes involved in the case. Rita aids O'Hara in his mission to expose the corruption within the police, and together, they uncover a web of deceit that leads all the way to the top.
The film includes a high-speed car chase, violent shootouts, and tense, suspenseful scenes, culminating in an explosive climax that will keep you on the edge of your seat.
The World Gone Mad is a compelling and entertaining movie, showcasing superb performances by the lead actors. Pat O'Brien, in particular, delivers an outstanding performance as the determined newspaper publisher, who shows great courage and tenacity in his quest for justice.
Evelyn Brent is equally impressive in her role as Rita Carlyle, the nightclub singer. She brings a touch of glamour and charm to the film, while also conveying a sense of vulnerability and insecurity in her relationship with the detective.
Neil Hamilton plays the role of the corrupt police detective perfectly, portraying a character that is both arrogant and ruthless. His performance is a standout, showing great range and depth.
The film's cinematography is also noteworthy, capturing the gritty ambiance of the city's underworld. The black and white cinematography creates a mood of foreboding and danger that adds depth to the film's storyline.
In conclusion, The World Gone Mad is a classic crime drama that combines action, suspense, and memorable performances to create an entertaining and highly satisfying movie experience. The film's theme of corruption and the struggle for justice remains relevant in our current society, making the film a timeless classic that should not be missed.
The World Gone Mad is a 1933 crime movie with a runtime of 1 hour and 20 minutes. It has received mostly poor reviews from critics and viewers, who have given it an IMDb score of 4.8.