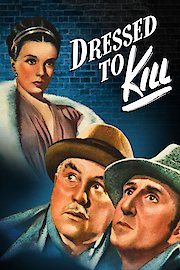 Watch Dressed to Kill
"Queen . . . of a Crime Cult !"
Passed
1946
1 hr 16 min
Dressed to Kill is a Sherlock Holmes murder mystery. The Bank Of England has had plates used to print money stolen. These plates are hidden inside music boxes which are purchased by unsuspecting collectors. A friend of Dr. Watson drops by to tell of an unusual robbery at his place. His passion is collecting music boxes and the night before someone broke into his home, clouted him on the head and stole a music box he had bought quite cheaply at auction. This begins the hunt for Sherlock and Holmes. They discover several of these robberies have occurred and some are accompanied by murders. They must solve the case and retrieve the hidden plates.