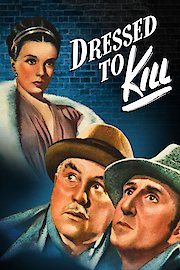 Watch Dressed to Kill
"Queen…of a crime cult!"
Passed
1946
1 hr 16 min
Dressed to Kill is a classic murder mystery film starring Basil Rathbone, Nigel Bruce, and Patricia Morison. The story follows the famous detective Sherlock Holmes (Rathbone) and his sidekick Dr. Watson (Bruce) as they investigate a series of robberies and murders that seem to be linked to a collection of valuable music boxes. The film begins with Holmes and Watson attending an auction where one of the music boxes is being sold. After the box is stolen from the buyer's home and a murder takes place, the detective duo begins their investigation, which takes them to a music hall where they meet the beautiful performer Kitty (Morison). As they delve deeper into the case, Holmes and Watson discover that the music boxes hold the key to a deadly conspiracy involving stolen government documents.
The movie boasts a strong cast, with Rathbone and Bruce delivering their trademark portrayal of Holmes and Watson respectively. Rathbone captures Holmes' brilliance and aloofness to perfection, while Bruce brings comic relief to the film with his bumbling but endearing portrayal of Dr. Watson. Morison also shines as the glamorous Kitty, who brings her own set of secrets and motives to the investigation.
The film is notable for its atmospheric cinematography, featuring moody and shadowy scenes that create a sense of foreboding and tension. Director Roy William Neill also uses clever visual techniques to keep the audience on edge, such as shots from the perspective of the killer's knife and dramatic close-ups of the characters' faces during key moments.
One of the highlights of the movie is the suspenseful and action-packed climax, which features Holmes and Watson in a thrilling chase scene through the streets of London. With its intricate plot, strong performances, and stylish direction, Dressed to Kill is a classic example of the Golden Age of Hollywood's mystery genre.
Overall, Dressed to Kill is a must-watch for fans of Sherlock Holmes and classic murder mysteries. The film is a gripping and entertaining ride from start to finish, with plenty of suspense and intrigue to keep the audience guessing. Rathbone, Bruce, and Morison deliver memorable performances, and Neill's direction and cinematography add to the film's tension and atmosphere. If you love a good mystery, Dressed to Kill is a movie you won't want to miss.
Dressed to Kill is a 1946 crime movie with a runtime of 1 hour and 16 minutes. It has received mostly positive reviews from critics and viewers, who have given it an IMDb score of 6.8.