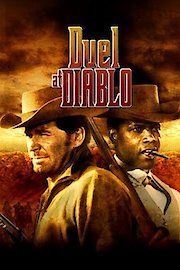 Watch Duel at Diablo
"Yesterday they fought each other – today they fight together in a dead end canyon called Diablo!"
Approved
1966
1 hr 43 min
Set in the American Southwest after the Civil War, Duel at Diablo is a western film that follows Jess Remsberg, played by James Garner, a former army scout who embarks on a dangerous mission deep into the Apache-held territory to rescue a woman who had been kidnapped by the infamous Apache warrior Chata, played by John Hoyt. Along his journey, Jess crosses paths with Lieutenant Franklyn, played by Sidney Poitier, a Calvary officer who is leading a supply caravan to the same area. Despite their initial differences and suspicion, Jess and Franklyn team up to face the myriad of challenges ahead, including treacherous terrain, harsh weather, and savage attacks by the Apache warriors who are determined to stop them at any cost. As the two travel further into the heart of the enemy territory, they encounter a group of homesteaders who have been victimized by the Apache tribe, and their efforts to protect the settlers create further conflict and tension between Jess and Franklyn. Along the way, they also team up with Ellen Grange, played by Bibi Andersson, a Swedish immigrant who is on a personal mission to save her missing husband. As their journey continues, the group is tested by escalating attacks by Apache warriors who are clearly determined to stop them from achieving their goal. At times, the situation seems hopeless, and the characters are forced to make difficult decisions that come with high stakes. However, even in the darkest moments, Jess, Franklyn, and Ellen push through with bravery and determination, showing that they are willing to risk everything to save innocent lives and achieve their mission. The film is renowned for its raw portrayal of the harsh and unforgiving world of the West, characterized by violence, bloodshed, and the many dangers that lurk in the wilderness. The famous sweeping landscape of the American Southwest adds to the atmosphere of the movie, creating an intense and immersive experience for the viewers. The stellar performances by the lead actors, especially James Garner and Sidney Poitier, bring depth and nuance to their characters, making them stand out as figures of courage and moral authority in a lawless and chaotic world. Overall, Duel at Diablo is a classic western that combines thrilling action sequences with complex exploration of moral issues such as trust, loyalty, and justice. The film offers insights into the challenges faced by people who were pioneering the West and shows the resilience and determination of those who dared to dream of a better future amidst adversity. With its powerful themes, excellent acting, and breathtaking cinematography, Duel at Diablo remains a timeless masterpiece that has rightfully earned its place in the pantheon of great Western films.