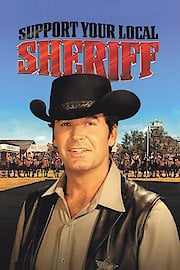 Watch Support Your Local Sheriff!
"Bad men... Bad ladies... Bad horses..."
G
1969
1 hr 32 min
56
In this comedy Western, James Garner stars as an Easterner who inadvertently becomes the new sheriff of a rowdy Western town. The job wouldn't be too difficult if it weren't a law-breaking family who don't appreciate the sheriff's interference. Bruce Dern, Harry Morgan, Jack Elam and Walter Brennan also star.