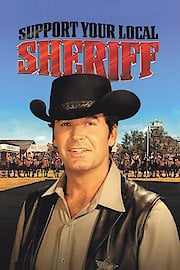 Watch Support Your Local Sheriff!
"Bad men... Bad ladies... Bad horses..."
G
1969
1 hr 32 min
56
In the small, dusty town of Calendar, Colorado, trouble is always brewing. When a gold rush hits the town, chaos ensues with various shady characters vying for a piece of the action. Enter Jason McCullough (James Garner), a charming and capable cowboy who finds himself stranded in Calendar on his way to Australia. Through a series of fortunate (or unfortunate) events, McCullough becomes the town sheriff, tasked with keeping the peace and bringing the outlaws to justice. Despite his lack of experience and somewhat reluctant acceptance of the job, McCullough proves to be a natural leader and problem solver. Along with his trusty sidekick Jake (Jack Elam), a loyal and slightly bumbling deputy, McCullough sets out to impose law and order on Calendar, much to the initial dismay of the townspeople who are used to doing things their own way. One of the first challenges McCullough faces is dealing with Joe Danby (Bruce Dern), the son of the local troublemaker Pa Danby (played with gusto by Walter Brennan). Joe is a hotheaded troublemaker who causes problems for McCullough at every turn. McCullough manages to diffuse the situation by arresting Joe and placing him in jail, which sends a clear message to the other troublemakers in town. Throughout the movie, McCullough also catches the attention of Prudy (Joan Hackett), a strong-willed woman who runs the local hotel. Prudy is instantly drawn to McCullough's charm and wit, and the two soon develop a budding romance. However, their relationship is threatened by the arrival of Walter (Harry Morgan), Prudy's estranged husband who shows up unexpectedly and causes tension between Prudy and McCullough. As McCullough continues to enforce the law, he finds himself facing off against a range of colorful characters, including a group of miners who are stealing gold from the local mine, a ruthless gunslinger who has been hired to kill him, and a gang of rowdy cowboys who threaten to destroy the town. Through it all, McCullough maintains his calm and unflappable demeanor, earning the respect and admiration of the townspeople. Support Your Local Sheriff! is a Western comedy that combines action, romance, and humor in a lighthearted and entertaining way. James Garner delivers a standout performance as the quick-witted and capable sheriff, while Joan Hackett shines as his love interest. Walter Brennan steals the show as the cantankerous Pa Danby, providing plenty of laughs with his gruff demeanor and colorful insults. The movie has a classic Western feel, with plenty of gunfights, horseback riding, and dusty landscapes, but it also incorporates elements of slapstick comedy and satire, making it a unique and enjoyable movie-watching experience. Overall, Support Your Local Sheriff! is a classic Western comedy that has stood the test of time. With its engaging characters, witty dialogue, and entertaining plot, it is a movie that is sure to keep audiences laughing and entertained from beginning to end.